Black Currant and Hoisin Roasted Chicken Thighs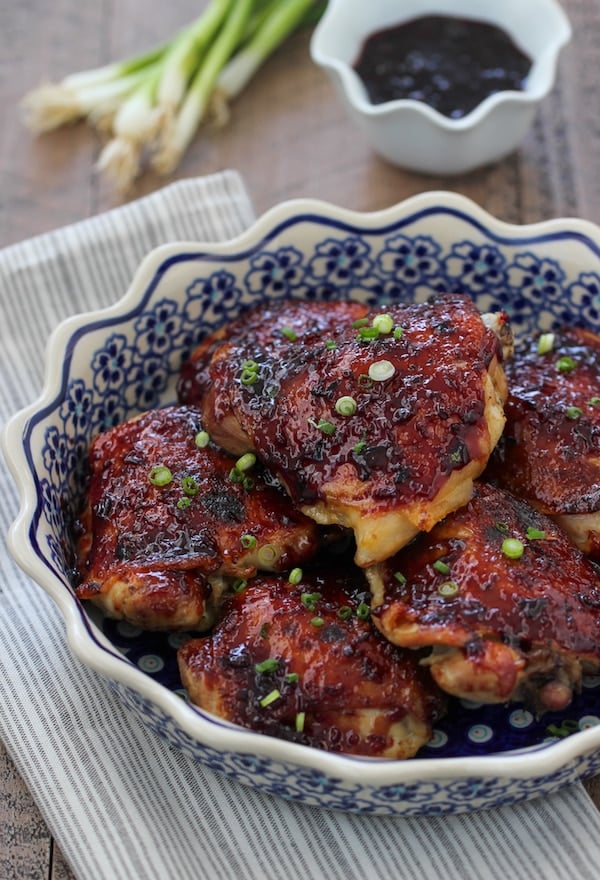 Weeknight dinners can be a challenge sometimes because of something I call "kitchen burnout". After prepping, cooking and cleaning up day after day, we have to do it all over again the next day. I can assure you that everyone gets this, even people who love to cook.  Sometimes you just need a break, which means it's time to go out to eat, but other times you just need to try something new to get out of the rut.
Chicken for dinner is a no-brainer because it's easy, inexpensive and usually a hit with the whole family. I love roasting chicken because there's very little prep involved, which means fewer dishes and I'm all about reducing those dishes. My parents grow all sorts of berries on their property and Mom made some blackcurrant jam that she shared with all of us. I decided to create a sauce using the sweet and tart jam along with some hoisin sauce to make a really delicious glaze for chicken. If you don't have any blackcurrant jam, you can use blackberry or plum jam instead. Serve with some rice and a salad and you just might be making this for company one night, because it's so delicious. 
Ingredients:
6 chicken thighs, trimmed and excess fat removed
salt, ground black pepper, to taste
1/2 Tablespoon oil
1 shallot, minced
3 garlic cloves, minced
1/3 cup red or blackcurrant jam (you can also use blackberry or plum jam)
4 Tablespoons hoisin sauce
2 Tablespoons rice vinegar
2-4 Tablespoons water
Instructions: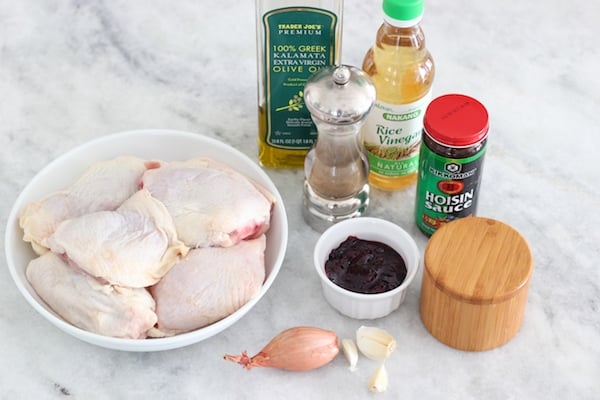 Preheat the oven to 375 degrees Fahrenheit. Season the chicken on both sides with salt and ground black pepper.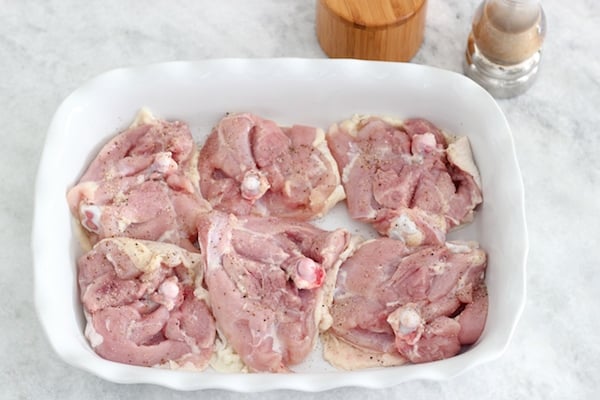 You can add other seasonings and spices too, but since the sauce is very flavorful, I don't season the chicken with anything else. Place the chicken in the oven and roast until the skin has turned slightly golden.
While the chicken is cooking, prepare the sauce. Heat the oil in a medium saucepan and add the shallot and garlic, cooking on medium heat for 2-3 minutes.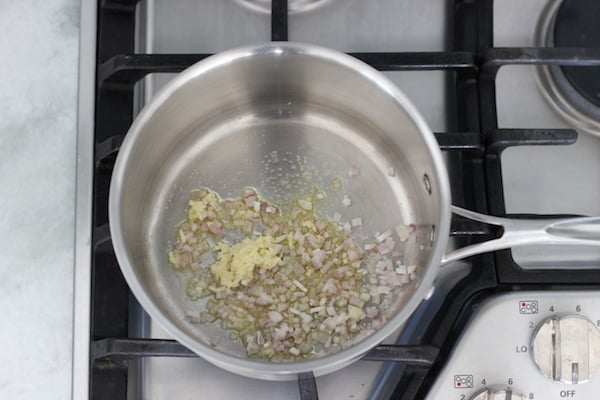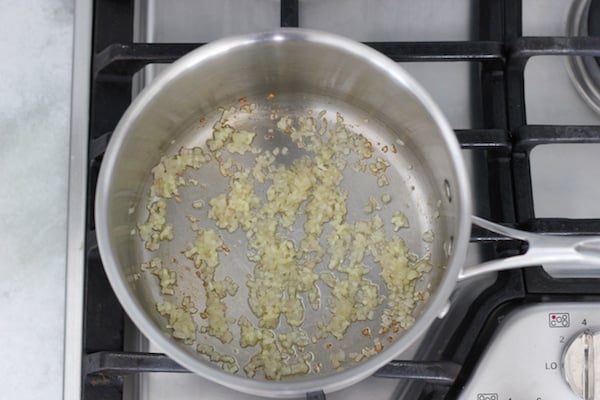 Add the jam, hoisin sauce, rice vinegar and 2 Tablespoons of water.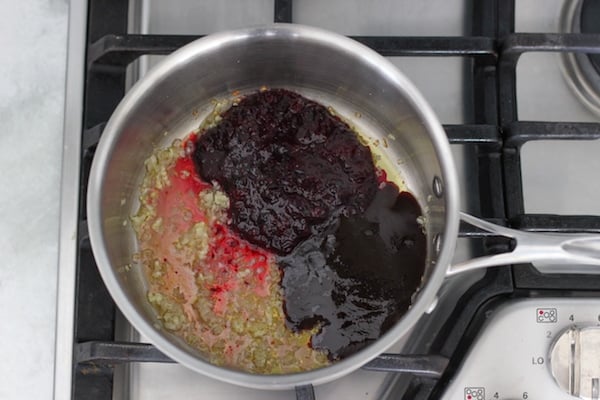 Bring to a boil and then reduce the heat to a simmer, cooking for about 5 minutes. If the sauce is too thick, add a few more Tablespoons of water.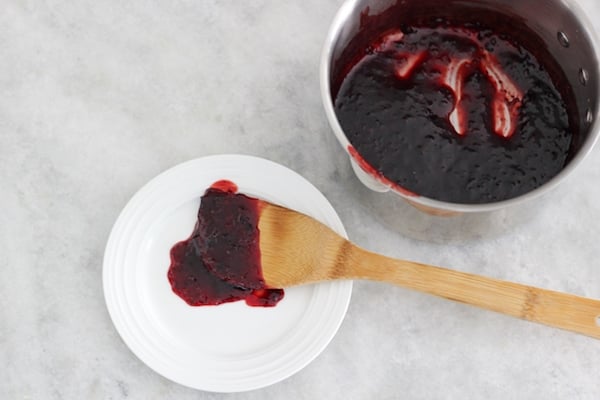 When the chicken is slightly golden and is about 165 degrees Fahrenheit in the center, brush the sauce on top of the chicken.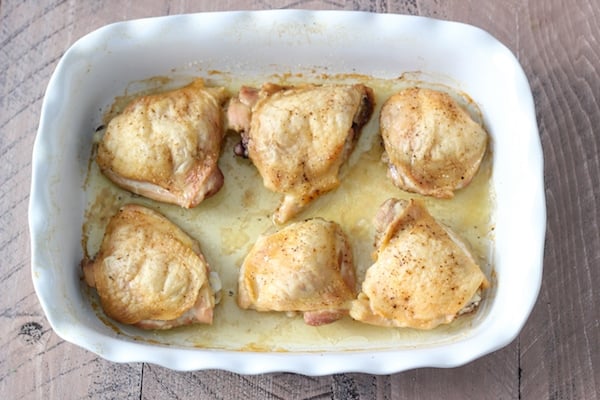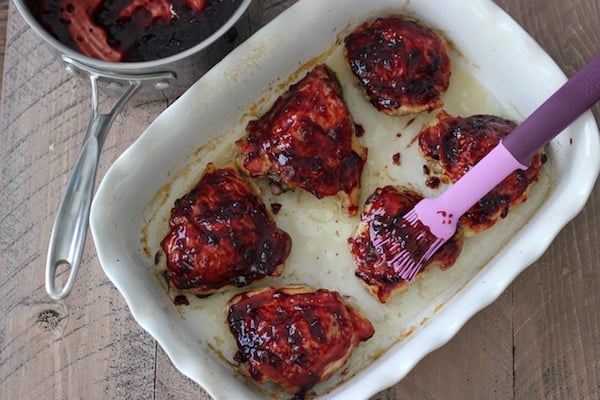 Return to the oven, turn the temperature to 450 degrees Fahrenheit and continue roasting until the chicken is completely cooked through and is 175 degrees Fahrenheit in the center, 5-10 min.
You can turn on the broiler for the last few minutes if you really want to crisp up the chicken.
Serve with some of the leftover sauce, if you have any. Garnish with green onions.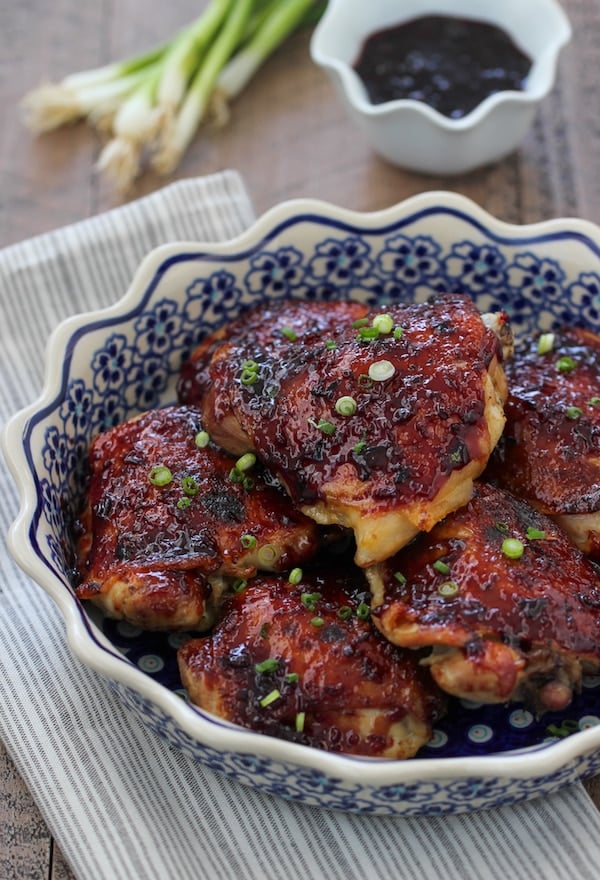 Black Currant and Hoisin Roasted Chicken Thighs
Author:
Olga's Flavor Factory
Ingredients
6 chicken thighs, trimmed and excess fat removed
salt, ground black pepper, to taste
½ Tablespoon oil
1 shallot, minced
3 garlic cloves, minced
⅓ cup red or blackcurrant jam (you can also use blackberry or plum jam)
4 Tablespoons hoisin sauce
2 Tablespoons rice vinegar
2-4 Tablespoons water
½ Tablespoon sliced green onions, to garnish
Instructions
Preheat the oven to 375 degrees Fahrenheit.
Season the chicken on both sides with salt and ground black pepper. You can add other seasonings and spices too, but since the sauce is very flavorful, I don't season the chicken with anything else. Place the chicken in the oven and roast until the skin has turned slightly golden.
While the chicken is cooking, prepare the sauce. Heat the oil in a medium saucepan and add the shallot and garlic, cooking on medium heat for 2-3 minutes.
Add the jam, hoisin sauce, rice vinegar and 2 Tablespoons of water. Bring to a boil and then reduce the heat to a simmer, cooking for about 5 minutes. If the sauce is too thick, add a few more Tablespoons of water.
When the chicken is slightly golden and is about 165 degrees Fahrenheit in the center, brush the sauce on top of the chicken and return to the oven, turn the temperature to 450 degrees Fahrenheit and continue roasting until the chicken is completely cooked through and is 175 degrees Fahrenheit in the center, 5-10 min.
You can turn on the broiler for the last few minutes if you really want to crisp up the chicken. Serve with some of the leftover sauce, if you have any.
Garnish with green onions