Whenever there is a gathering of humans and food shows up, you can be sure the mood will noticeably brighten and become joyous, light and celebratory. Even if it's as simple as tea with sandwiches.
Food is very powerful. Not only does it nourish and warm our bodies, it also nourishes our emotions.

There is a deep need within us for connection and closeness. We hunger for community just as we hunger for food.
That's the reason parties are so much fun. No matter how fancy or laid back we make it, we thrive in a close circle of family and friends.
There is a deep satisfaction inside us after we've said the last good bye to our guests at the door and think back to all the work we did in planning and preparing the dinner, tea, lunch, etc. Yep, it was worth it.
Then, our gaze stops at the pile of dishes, the messy table, the multiple pots and pans on the counters and stove and we groan. Loudly.
There's one thing I can almost guarantee… most hosts dread cleaning up after a party.
After all the planning, prepping, cooking and serving, our energy is totally zapped and there is absolutely no desire to roll up those sleeve and tackle THE STACK.
I've worked out a system that works for me, and I almost don't dread those dishes anymore.
1. Start out the party with an empty sink and dishwasher.
I wash everything I possibly can before the party starts. All the dishes, cutting boards, mixing bowls, knives, etc. that I used to cook and prep get washed and put away.
This is sort of easy, since I want my guest to arrive to a clean and neat home anyway. I also try to empty the dishwasher so I can start stacking dishes in there without having to put the clean ones away first. I have a really small kitchen, so I need all the counter space anyway.
2. Soak the dishes throughout dinner.
When I gather all the plates from the main meal and to make room for dessert, or when we head over to relax in the living room, I stack the plates in the sink and cover then with water. It barely takes any extra time at all, and all those dirty dishes will be soaking while we go on with the party.
It's important to me to spend time with my guests, so I don't wash the dishes at this point, unless we have so much people that we ran out of silverware and need to get some washed to eat the cake.
The only thing worse that dirty dishes, is DRIED UP dirty dishes.
3. As soon as the last guest leaves, I turn into the energizer bunny.
Do NOT sit down, start to unwind and reminisce over the evening. Nope. That doesn't work for me. If I sit down, it's so much harder to get motivated to start cleaning.
I have a race with myself. As soon as that door clicks shut, it's as though the shotgun went off. If fact, if you forgot your purse and came back for it, I'll already be halfway done clearing the table.
I try to see how fast I can have the kitchen clean. It's become a game that I play every time. It gives me such a thrill when I step back, everything is clean, the dishwasher is running, all the pots and pans and serving dishes washed, and the counters clear.
I stand there and look around, with a silly grin on my face, cackling with glee and triumph. Ah. I amuse myself quite easily, as you can see.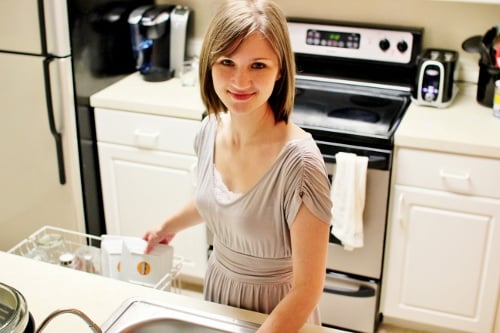 I glance at the clock and brag to my husband how fast I did it this time. He's a dear and humors me and lends a hand, of course. His job is to put the leftovers away, and dry and put away the dishes I wash before they topple. I do like to stack them high.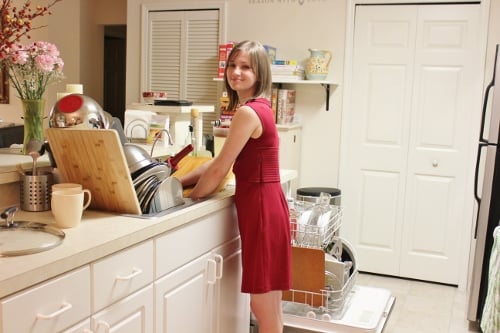 Since all those dishes were soaking away, they are a cinch to wash and I fly right through them. Guess how long it usually takes? In most cases (I'm talking BIG parties, 20, 30 people), not more than half an hour. Don't believe me? Try it yourself next time.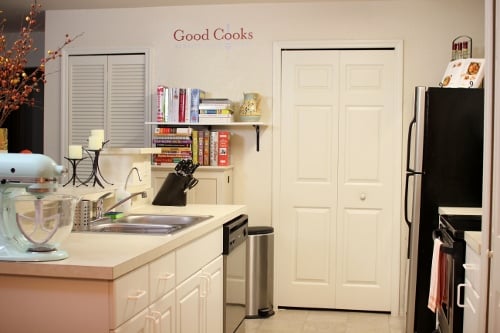 The most important reason why I clean up right away though, is for my sanity.
Just the thought of waking up the next morning with my kitchen a disaster makes me very grumpy. I've gone to bed plenty of times in the past with the kitchen a mess and it wasn' t pretty. I wake up in a bad mood, and get up sulking and mad.
Now instead, I reward myself with a slow wake up, make myself a nice cup of tea and revel in the memories of the evening before, of  all the great people that were there and how clean and cheerful my house looks, instead of all those dishes blocking out all those warm memories.