Favorites From Trader Joe's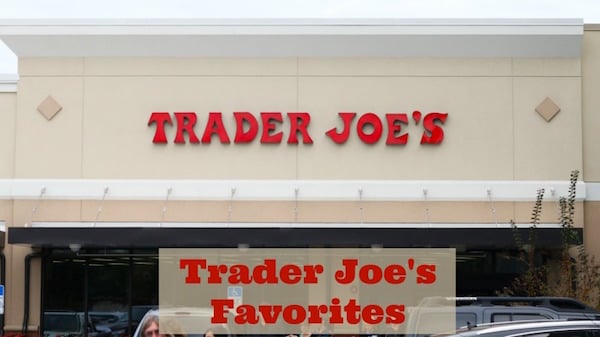 We have a Trader Joe's about 40 minutes away, so I don't go there very often, usually every 3 months or so. This store is known for its affordably priced healthy and often organic groceries. The prices for organic produce is much more pocket friendly than a normal grocery store. However, just because you're shopping at Trader Joe's or Whole Foods doesn't mean that everything is healthy. You still have to read the ingredient lists if that is important to you. I try to buy things that don't have any weird ingredients or ones that I can't even pronounce.  Since I don't go to Trader Joe's very often, my favorites are usually things that are pantry staples.
Oils, Vinegars, Condiments: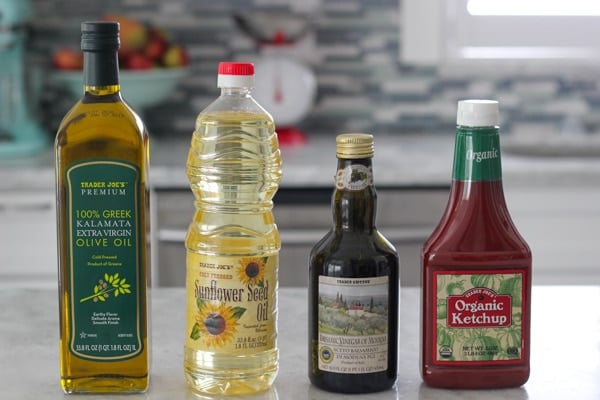 Their extra virgin olive oil and sunflower oil is what I get every time I am there. I use EVOO in salads and other recipes where I'm not using it to cook with on high temperatures. I cook with sunflower, extra light olive oil and avocado oil. The sunflower oil is a fraction of the cost at Trader Joe's compared to anywhere else I've seen it.
I don't use a lot of ketchup or balsamic vinegar, so they both last me a long time. (I think I use one bottle of ketchup for almost a year, unless I make Barbecue Sauce with it.)
Nuts, Shredded Coconut:
The nuts at Trader Joe's are so much cheaper than in regular grocery stores. I usually buy a huge bag each of walnuts, pecans and almonds at Costco since that is what I bake with the most. (You can read about my Costco Favorites HERE.) I store them in my freezer, that way I only buy them once a year or so. Whenever I want a smaller amount of nuts, Trader Joe's has a huge selection and the price is great. The shredded coconut doesn't have any weird stuff added to it, and the price is very affordable. I like having shredded coconut on hand to make my favorite coffeecake, it's called the Lazy Daisy Cake. (Can't believe I don't have a recipe up on my blog!)
Canned Goods: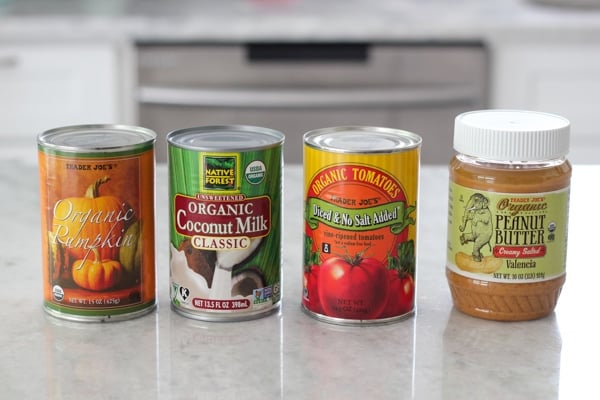 I don't buy very many canned items, so this is basically what I usually get – tomato products, pumpkin (when it's in season) and coconut milk. As I already mentioned, I like the fact that they don't have any added weird ingredients and are cheaper than a regular grocery store.
We always have peanut butter in the house. It's a great snack. Their almond butter is good too.
If I need any other canned goods for a specific recipe that I'll be making in the near future, I check out what they have because it's usually so much cheaper than most regular grocery stores.
Chips:
Chips are definitely significantly cheaper than at most other stores. Sometimes Sergi will get potato chips to have with a sandwich at work, and we like to make our Loaded Nachos using these tortilla chips.
Fresh Fruit and Vegetables: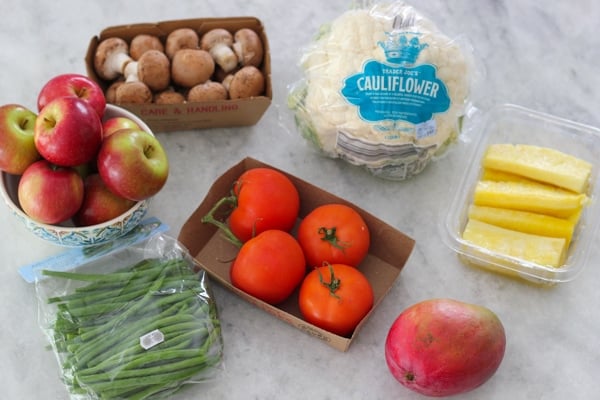 Trader Joe's has a large selection of fresh fruit and vegetables. You just have to see what is good for the price. I buy whatever is a good deal at that particular time. Each time is different, but you can usually find a good variety.
Tuscan Kale:
I have never been able to find Tuscan Kale in any other store. It is absolutely amazing. First of all, the texture is completely different from regular kale. You don't have to gnaw on it for ages, it's so soft and tastes great too. I love adding it to soups. Sergi loves it too. If you've never tried it, or think you don't like kale, give this one a try.
Fresh Herbs: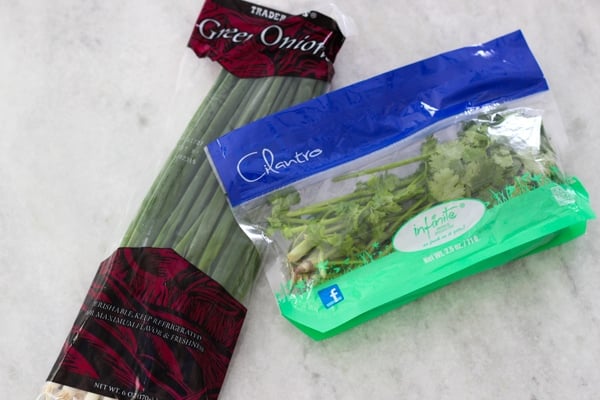 I ALWAYS have fresh herbs in my refrigerator. I think it adds so much freshness and flavor to food. I currently am growing basil and chives myself, but I usually have parsley, cilantro and green onions too.
Tomato Paste in a tube: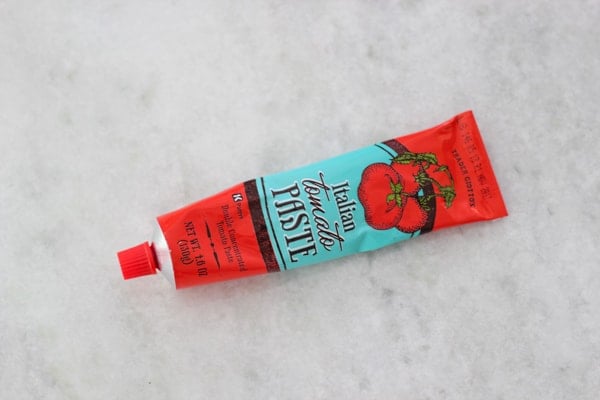 This is one of my favorite products of all. I love that you can just squeeze out however much you need and don't have to figure out what to do with the remaining paste in the jar, or have to store it somehow. I used to freeze leftover tomato paste in ice cube trays, but this is so much easier.
Arrabiata Sauce and Eggplant Garlic Spread: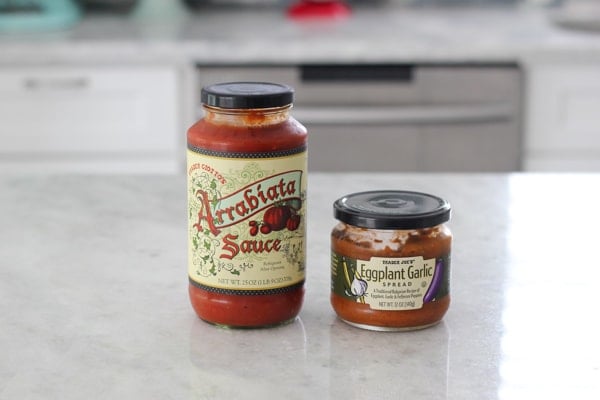 I heard so many great things about the Arrabiata Sauce, so I had to try it for myself, and it tastes SO good. I like to have it on hand for a quick lunch option with pasta for myself. It's a great tomato sauce but has the additional flavor of peppers. My Mom told me about the Eggplant spread, and it's delicious too. No weird ingredients in either of these!
Fresh Flowers: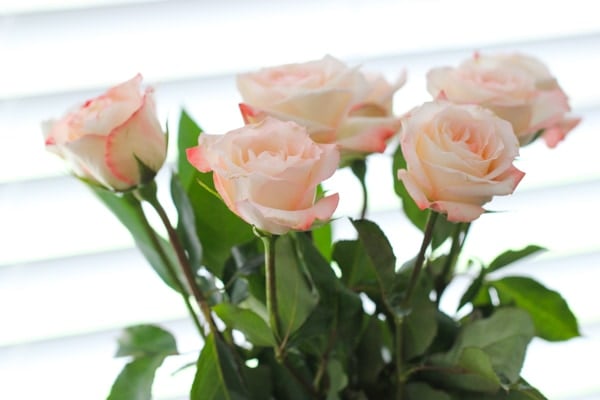 They always have a beautiful selection of flowers that are so cheap. I got these gorgeous roses for $5.99 – that's so much less than I would pay anywhere else. Fresh flowers make my house feel so cheerful and elegant.
Do you have a Trader Joe's nearby? If so, what do you like to buy there? Ever since I posted my Costco Favorites, I've enjoyed reading your comments and seeing what you guys recommend too.
This is NOT a sponsored post. I simply enjoy shopping at Trader Joe's and wanted to share my favorites with you, that's all.