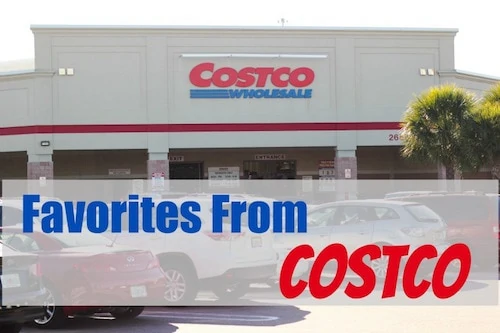 Before you get married, you picture the weekends as a chance to spend some romantic time with your spouse, strolling hand in hand on a sandy beach as the gentle waves lap at your feet, or maybe having a picnic at the park. Weekends would be a special time, you told yourself, to relax, reconnect and rekindle your love for each other. That does sound nice, but the reality is, that once the weekend finally arrives, you find yourself strolling through the aisles of Costco.
What can I say, being an adult also brings many responsibilities, including grocery shopping, paying bills, cleaning, laundry and mowing the lawn. Being an adult also means that you actually get giddy with embarrassing excitement while you're "fulfilling your duties" (and spending money) at Costco. Ever since we signed up for our Costco membership, we enjoy the trip, stocking up on our tried and true favorites as well as discovering new things to bring home. We go to Costco about 2-3 times/month. Some things we buy all the time, and other things last us up to a year. Of course, since there's only 2 adults and a baby in our household, sometimes it doesn't make sense to buy something in bulk no matter how good the price may be. Also, just because it's sold in bulk doesn't necessarily mean that it will be cheaper, so you still have to look at the unit prices, to make sure it really is a good deal. 
Here are some of the things that we regularly buy and the reason we renew our membership every time the year is up.
Rice: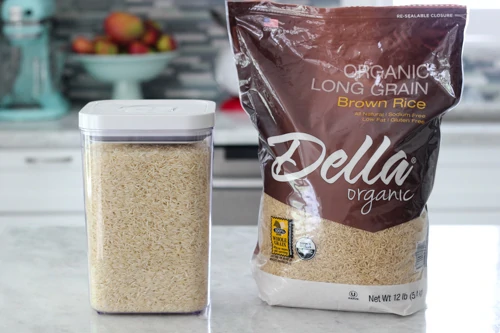 We love rice. I buy both the white long grain basmati rice as well as the brown rice. Since we eat it often enough, we actually do use up the huge bags (even though I don't usually buy more than 1 bag each/year) and it's much cheaper than buying the smaller bags at a regular grocery store.
Nuts/Dry Fruit:
I bake most often with almonds, walnuts and pecans. They are also Sergi's favorites to snack on or add to salads. I buy a huge bag of each of these nuts and store them in the freezer. They last me about a year. Since nuts have a large amount of oils in them, nuts get rancid if you don't use them up fast enough. Freezing them keeps them nice and fresh. You don't even have to thaw them before using.
Dry fruit can also be found as a good deal. They have dry sour cherries that I like to snack on as well as use in some recipes, like my Traditional Thanksgiving Dressing/Stuffing, in salads and other baked goods. Last time we were at Costco was the first time we bought dry mangos and they were AMAZING. I've never tasted dry mango that was so juicy and flavorful.
Salt, Pepper and Other Spices
I usually buy the bulk containers of sea salt and whole peppercorns that I use when I cook broths or refill my pepper grinder. I don't buy a lot of other spices in bulk, since I don't want them to get old before I use them up, but if I'm cooking for a large event, they have many options, like granulated garlic and onion, Italian herbs, etc.
Frozen Vegetable Medley:
This is a combination of carrots, corn, peas, edamame and green beans. I keep this on hand for easy lunches for myself, or to cook up an emergency vegetable side dish to a dinner if I don't have any fresh veggies on hand. I'll be honest with you, I am not a big fan of the texture of frozen vegetables. This is a passable way of always having some vegetables available. I like to add it to leftover rice with an egg for a super easy fried rice dish.
Tuna Fish and Sardines:
Tuna is cheap, filling and great on sandwiches, like the most typical tuna sandwich or Tuna Melts and even Deviled Eggs. I always have a few cans in my pantry. Sardines are a great source of omega 3…. My favorite way to eat sardines is on multigrain/wholewheat toast with avocado and tomatoes. We love taking tuna sandwiches with us when we go to the beach. These are both lunch favorites for me.
Organic Milk: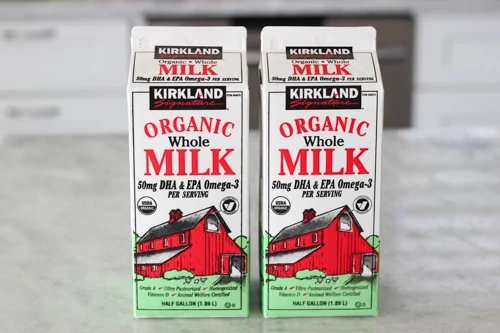 It's so much more affordable to buy organic milk at Costco and we really enjoy the taste of it too.
Other Dairy: (Butter, Sour Cream, Heavy Cream, Half n Half etc.)
Most of the dairy is cheaper at Costco, so if I know I can use up the tub of sour cream, I get it, and the half n half and heavy cream are always a good deal.
We love the taste of Kerrygold butter and once again, it's cheaper at Costco. Are you seeing a theme?:).
Maple Syrup: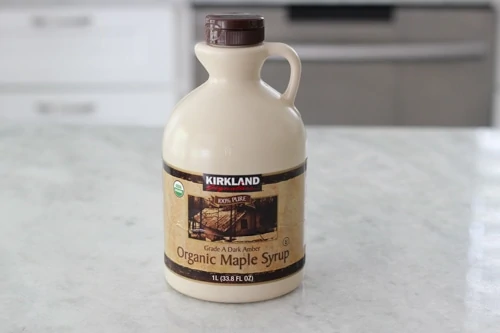 Maple syrup is twice more expensive at a regular grocery store. It's a breakfast must have for us. I like cooking oatmeal and adding maple syrup for sweetness. One of Nathaniel's favorite foods ever is oatmeal, so I'm happy to oblige.
Smoked Salmon: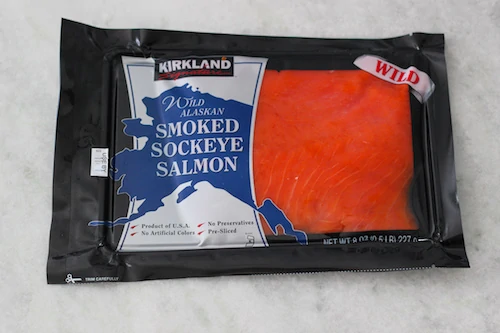 It's hard to find wild smoked salmon in most grocery stores, but in Costco it's always available and we pay half the price of what it would cost at any other grocery store in our area. It's great on sandwiches, appetizers or on a bagel.
Organic Chicken: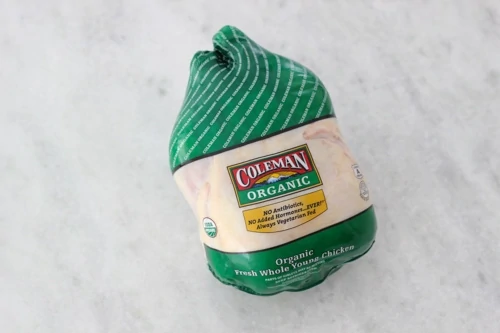 Organic chicken is very pricey, but here it's quite affordable. I buy the whole chickens, chicken drumsticks, thighs and chicken breasts. The chicken pieces are very conveniently packaged in portion sizes, so I don't have to spend time portioning them out myself.
Frozen Fruit:
Frozen fruit is good to have on hand. Strawberry and banana smoothies are my favorite and I even make strawberry jam from frozen berries. (I just shared the recipe.) I also make cooked fruit drinks, like Mors, Kompot as well as flavored Iced Teas and Pink Lemonade using frozen berries. Frozen blueberries are great for baking. Whenever I need to bake something fast, I always have the choice of muffins or a coffeecake.
Fresh Tortillas
We hardly ever have these at our local Costco, but they are nice to grab when they are available to make easy Cheese or Chicken Quesadillas or Cheburecki.
Organic Sugar
I tell everyone who buys organic sugar to get it at Costco. In our area, you will pay the same money for a bag half the size in local grocery stores and even Trader Joe's.
Extra Light Olive Oil and Avocado Oil
My mom hooked me up with olive oil and avocado oil from one of their stores in New York so I don't have a picture of the Costco oils, but when I am not spoiled by my Mama, I buy both of these oils at Costco.
Fresh Fruit and Vegetables
You really have to know prices for fruits and vegetables, since not everything will be a good deal, but often you will find good prices for certain things – mushrooms, asparagus, berries, melons, potatoes, spinach, lettuce, etc.
Household, Seasonal and/or Promotional Items
Costco will often have products that they sell for a short amount of time, during a specific season or run special promotions. We've scored so many great deals at Costco.
In the fall, I bought this butternut squash bisque and it was so delicious. It was a perfect lunch to have on hand for myself and Nathaniel. I really wish they sold it year round. 
I just recently bought these mushrooms and I haven't seen them before but they were also really tasty. I hope they keep selling them. As you can see, the jar is almost empty and as soon as I took the picture, I finished it off:).
I also have to mention the Kirkland brand baby wipes. We really like them. They are nice and thick and Nathaniel doesn't have any sensitivity to them.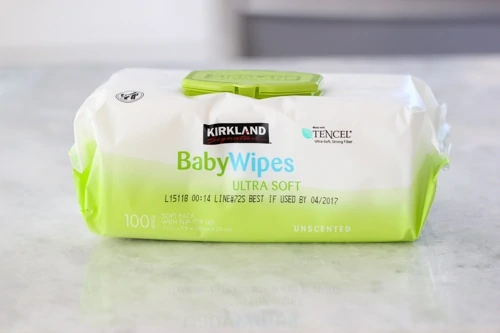 We've also bought many household and miscellaneous things, like books, a runner that we have in our laundry room, beautiful pendant lights above our kitchen island, our dinnerware set, cozy blankets and Nathaniel's tricycle.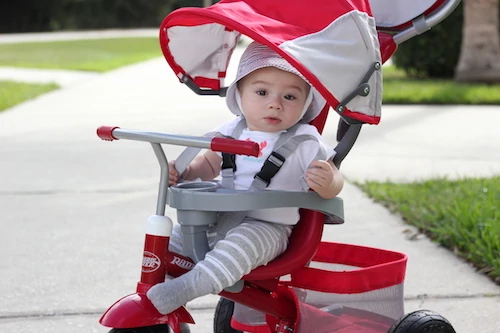 I'm sure there are many more great products that we buy that I forgot to mention or we just don't buy them often enough. Also, stores across the nation may vary with their options, so not everything that we have in our local Costco will be available at your store, just as some of the products that you enjoy, we won't have in our store.
We don't buy everything organic, but I really appreciate that Costco has so many organic options for great prices. And who doesn't love their sampling stations? The only downside is that it's usually crowded on the days that they are giving out samples. There are many really great products and we enjoy shopping there. It's easy to get sucked in to the Costco vortex, just like it is in any store, so it's a great time to practice self control:).
Please share all your Costco favorites; I'd love to get some ideas from you.
*This is NOT a sponsored post.