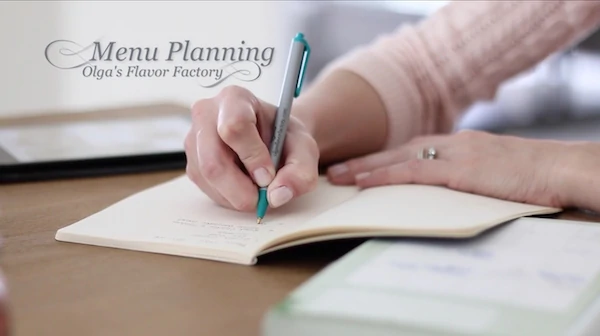 Menu planning is one of the highlights of my week:). I love to relax with a cup of tea, my planner and notebook and brainstorm of the meals that I will be cooking the following meal. I know that not everyone is like that. I was asked so many questions about menu planning when I did the Q&A a while ago, I thought this subject deserved its own video. Even if you hate cooking and menu planning, if you take just 15 minutes per week to plan our your meals, it will make your life so much easier, help you save time and money. Believe it or not, having a menu plan means you'll spend LESS time thinking about food.
Recipes mentioned in video: (click on any of the titles to see the recipe)
Traditional Cabbage Rolls or Mushroom and Buckwheat Cabbage Rolls
Traditional Borsch or Vegetarian Borsch
Chicken Fried Rice 
Roasted Salmon
Rice Pilaf
Spanish Tortilla
Pan Fried Potatoes
Pasta With a Simple Meat Sauce
Do you menu plan? If you don't but want to start, what are some things that are stopping you?
I would love to hear your tips for menu planning too.