Blessings and Highlights of 2015
What a year it was for us in 2015! At the end of each year, I love to look back and reflect on all the new things that we experienced, see how we've grown and changed as a family, the goals we've reached, the trials that we overcame and the dreams that came true. I know for a fact that 2015 will always be remembered as one of the most memorable years of my life. It was both very difficult as well as blessed and rewarding.

The Blessings of 2015
The Birth of Nathaniel
We started this year with the one of most amazing events of my entire life – the birth of our son, Nathaniel. His birth was a miracle and an unexpected blessing. I will forever be grateful to God for this gift. Having Nathaniel part of our family has completely changed our life, our daily "routines", our future goals and made every day more meaningful and full of joy.
The First Full Year In Our Home
This was the first year that we spent in our new home that we bought in 2014, and Sergi and I are so thankful to be homeowners. We love the neighborhood that we live in and the house is perfect for our needs. It's also great that it has such a large living area for when we have guests.
My Kitchen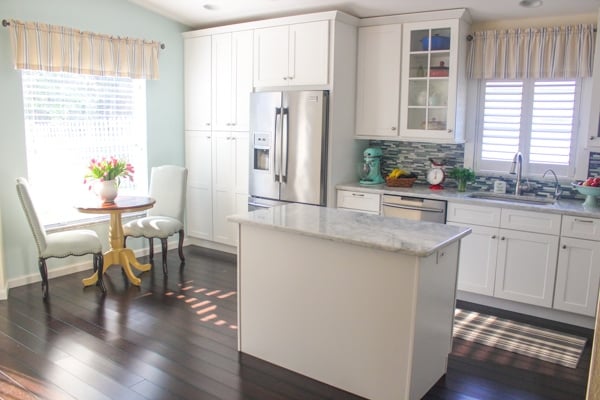 We renovated our entire kitchen when we first bought it, but I didn't really get to enjoy it much until the second half of this year. I am so  thankful to have so much space and I love how cheerful and bright the kitchen is. It's very simple in design, but that's my style:). After 8 years of tiny apartment kitchens, I really appreciate having so much counter space, and so much storage in the pantry, cupboards and drawers. The large sink is so handy, especially when I was bathing Nathaniel when he was a little baby and when I have tons of dirty dishes to stow away while blogging. My favorite appliances are my gas cooktop (I'm still really glad I chose it) as well as the double oven and the french door refrigerator, because once again – so much space!
You can read more about about our kitchen renovation here:
Blogging, New Recipes and My Favorite Job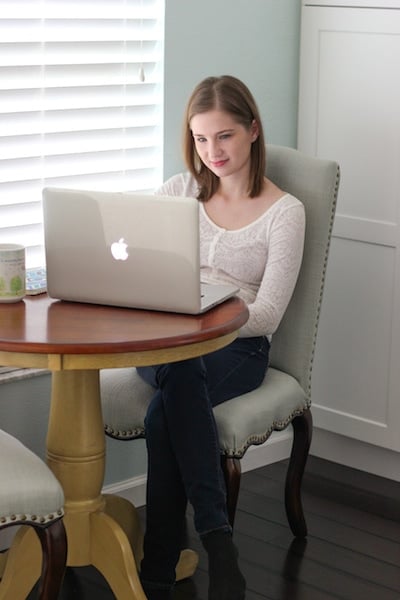 I am extremely thankful to have the opportunity to do something I love – cook, write and be a homemaker, all combined into one thing. I love playing in the kitchen, coming up with new recipes and flavor combinations. You can read my top 10 favorite recipes from 2015 in this post. I am so thankful for all of you, my readers. I know that this blog would not be possible without your loyal support. This January marks 4 years since I started the blog on January 1, 2012. The time has really flown by and it's such a blessing in my life.
Read More:
Why and how I started the blog
Starting a Blog and My Experience
Leading a Marriage Course With My Husband
This year, my husband and I led a small group in our church for newly married couples. We filmed 7 videos on different marriage related topics, such as marriage expectations, communication, romance and intimacy, money and marriage, etc. We shared the videos online and each week we had activities for each couple to do together. The course was a great way for us to grow in our relationship as well as to meet and learn from other great couples. Getting together on a weekly basis with other believers is so important and it's an awesome way to make friends and grow closer to God at the same time. You can watch all the videos HERE.
Inspiration For 2015
As I look back on this year, I have many mixed emotions – thankfulness, sadness, a tinge of self pity but most of all an extreme overwhelming gratefulness for God's grace in pulling me through another year of tough medical challenges. When I fought for my life in 2007 and then had a few difficult recovery years, I was so thankful when I finally was healthy enough to enjoy a more normal life.
When I surprisingly got pregnant with Nathaniel in 2014, I was thrilled but knew that there might be some challenges due to my constant battle with malnutrition. I had a really, really difficult pregnancy. There were weeks when I was so sick that I just stayed in bed. I hardly ever had any appetite and gained 0 pounds the entire pregnancy. I was on IV fluids and then TPN for months, all the way until Nathaniel was 5 months old. There were many complications, after my c-section I ended up having another surgery and was in the hospital for 10 days and then was hospitalized just a month later. It took many months to get my weight and strength back.
Medical challenges are very draining not only physically, but emotionally and spiritually too. My faith was so important to me and I can't imagine going through this year without God's strength. Even though there were many tears, pain, hospital stays and unpleasant medical procedures on a daily basis, I DID have a really good reason for it – my son. It was all worth it x 100.
What brought my spirits up was my family, music and God's Word, especially the book of Psalms and the story of Joseph. I was always so inspired by this story. Even though Joseph seemed to have gotten a really rotten deal in life – sold into slavey by his own brothers, being a slave, then falsely accused of rape and imprisoned, he didn't let himself become bitter and mope and have a pity party. No matter how awful the situation was, he rose above it and did his best in each stage of life. He went from being a lowly slave to the head slave in his owner's home and was trusted above everyone else. Because of Joseph's wisdom and hard work, his master prospered. When he was in prison, he once again didn't sit in the corner boohooing about all the injustices in his life, or become a hardened man. Instead, he once again showed his deep integrity and the prison warden made him in charge of the prison. He showed compassion to two other prisoners and interpreted their dreams, which led him to become the most important man in the whole country of Egypt, right after Pharaoh himself. No matter what happened in life, his faith didn't waver and his attitude, integrity, morals and values were consistent and strong.
A Few of my favorite songs:
Shoulders (For King and Country)
You can read the story of Joseph here: 
"Bless the Lord, O my soul;
And all that is within me, bless His holy name!
2 Bless the Lord, O my soul,
And forget not all His benefits:
3 Who forgives all your iniquities,
Who heals all your diseases,
4 Who redeems your life from destruction,
Who crowns you with lovingkindness and tender mercies,
5 Who satisfies your mouth with good things,
So that your youth is renewed like the eagle's." Psalm 103 
When it was hard, when despair settled all around me, God's Word and his promises lifted me up and restored my soul. 
2015 will be a year to remember. It was a year of growth and a year of many, many blessings. I hope I never take them for granted. 
"The Lord is my shepherd;
I shall not want.
2 He makes me to lie down in green pastures;
He leads me beside the still waters.
3 He restores my soul;
He leads me in the paths of righteousness
For His name's sake.
4 Yea, though I walk through the valley of the shadow of death,
I will fear no evil;
For You are with me;
Your rod and Your staff, they comfort me." Psalm 23
What are some highlights from your 2015? What is the best thing that happened? What are some things that you are thankful for?