2nd Blogiversary – Behind the Scenes
Behind the Scenes of Blogging: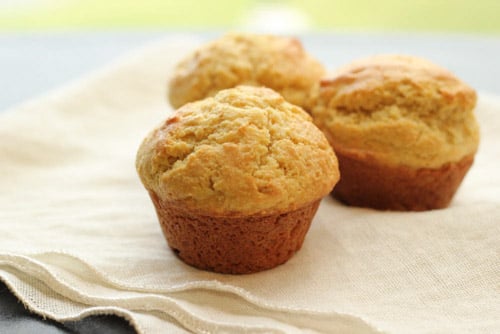 As you might know from yesterday's post, I am celebrating a 2 year Blogiversary of Olga's Flavor Factory:). This is an exciting time for me.
I thought you might be interested to know about the process of blogging, since I get asked about it all the time.
What goes into each recipe that is posted here?
First of all, I choose the recipes.
I am a such a nerd and lists make me smile and sing. I have a notebook that is specifically dedicated for brainstorming, and in it, I write down all the ideas that I have. From there, I choose what to cook.
What goes through my head when I think of what to post?
What kind of ingredients are in season?
What kind of food is best served this time of year?
What am I or my family craving?
What recipes are the readers requesting?
Writing the recipe:
Most of the recipes I've been cooking for years, and it's just a matter of perfecting the recipe. Sometimes, I get inspired to create something new. Either way, the recipe gets tested until it's just right. At that point, I cook the recipe and take pictures of every step.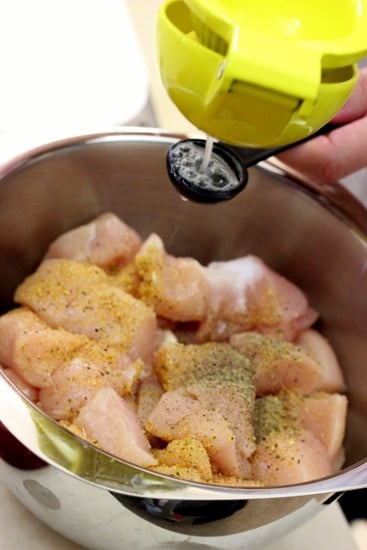 I also have a notebook specifically dedicated to writing down the recipe WHILE I'm cooking it.
I used to write down the recipes after I cooked something, but sometimes I would forget, or I would write them down on the back of envelopes or scrap pieces of paper and they would get lost. This has helped me so much, and if I have to adjust the recipe, it's already written down in one place, I just make the necessary changes.
I kid you not, I have 4 notebooks and a calendar to keep me organized and it makes me so happy and reduces my stress level for sure. My third notebook is for my daily to-do list, and the 4th I call my Project Manager, thanks to Organized Jen. I should write a post about my notebooks:).
If Sergi is home, he takes the final pictures, because he is a wonderful photographer, although neither of us knew anything about photography before I started blogging. If the recipe is something that isn't time sensitive, I wait for him to come home and take the pictures. You know what else Sergi has a huge part in? Helping me decorate the cakes! Sergi actually graduated at the top of his class in pastry school back in Belarus. I usually bake the cakes and make the frosting and he assembles it. I have no idea how he can spread the frosting so evenly and make the cakes so beautiful. He is so talented. Maybe I'll have him do a video on how to frost and decorate cakes:).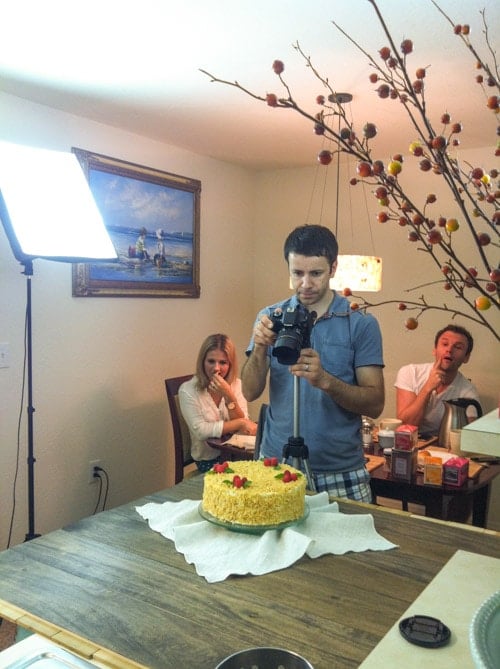 I've been learning more and more about photography as well, so I'm pretty comfortable with taking the pictures myself now too.
The perfect case scenario is when I cook a recipe while Sergi is at work, take all the step by step pictures and the final picture before he comes home so we can do something else together. But who am I kidding? When is life ever perfect? That only happens about 15% of the time.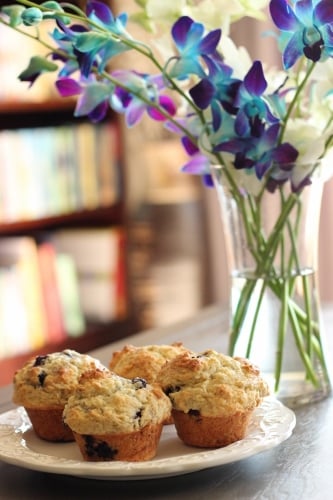 The rest of the time he takes the final pictures while I clean up and set the table. Sometimes, I blog on the weekends, in which case Sergi helps me the whole time. Either way, it saves time if I start cleaning while Sergi takes the final pictures and then we can eat right away and not have to clean up afterwards.
One of my biggest pet peeves is having to clean the kitchen after cooking for many hours. When I cook for just our family, it's pretty easy to clean as I cook, but if I'm blogging about several recipes at the same time, I don't have as much time to clean in between the different steps, so it's much messier.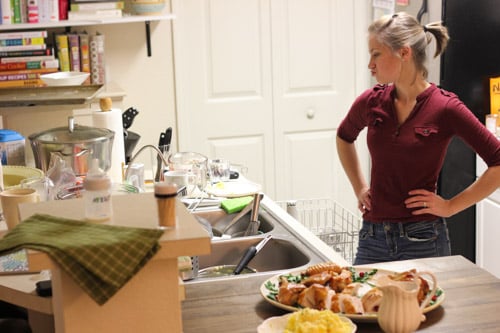 Here's the kitchen the same night, a few hours later. If you'll notice the time on the stove says "1:10" – that's at night, not the middle of the day:).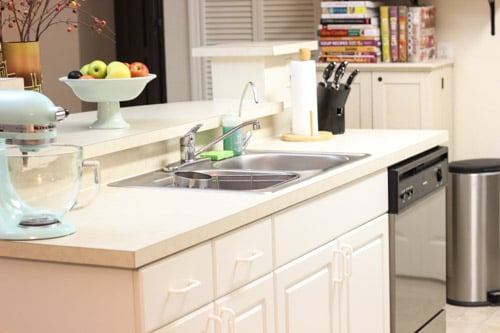 My kitchen is pretty small and has absolutely no light whatsoever, so we use additional artificial lights in the kitchen. The final pictures we try to shoot in natural lighting, in our living room, but sometimes that doesn't work out, so we do it in the kitchen as well.
What happens to all the food?
We eat it. Ha ha. Yep.
We don't usually have a problem consuming all the entrees, salads, etc, unless it's something big, like a turkey or ham. When I plan my menu every week, the recipes I blog about are included in the menu.
The sweets, however, are a different story. It's very difficult for 2 people to consume an entire cake or a batch of cookies, unless we make ourselves sick, or eat cake for a week until we can't even look at it anymore. Plus, everyone knows too much sweets is not good for you, right?
I've solved this problem with ease though; we just invite people over 99% of the time to help us eat it, and I give them some to take home as well. This way, we enjoy some of it, I leave us one more portion for the next day and the rest is gone with others.
Both of our families are more than happy to assist. It's a good thing both of use come from large families. They don't mind waiting for me to take a picture of a slice of cake before we serve it, and they think it's totally normal for me to arrive somewhere with a cake that already has a slice cut out of it.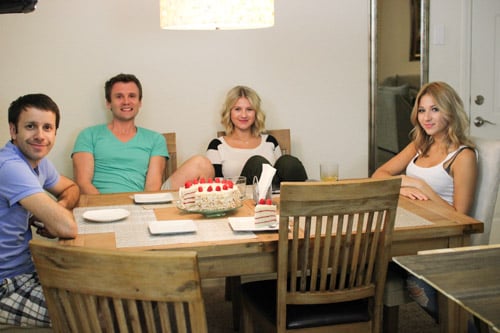 Posting the Recipes:
I try to blog about a week ahead of time, so that means that the recipes I'm cooking right now will be posted a week or even two weeks later. There are exceptions, of course, and sometimes I post a recipe the very next day. If I post things on Instagram or Facebook and it's a new recipe, you'll know that it will take a little while for the recipe to get posted.
I usually do the cooking for the blog about 2 days a week, since I have a job, a baby, a husband and housework to keep me busy the rest of the time:). When I know that I'll be going on vacation, an having visitors or an especially busy time in my life, I try to plan ahead, blog a whole slew of recipes for a week and then I preschedule the posts to go up in the future. Whenever I have some free time, in the evenings or in the mornings, I edit the pictures, re-size them and then upload them to my blog. It usually take me on average 2-4 hours to write out the recipe, instructions and a description of each recipe. Cakes take an average 6 hours.
It is a lot of work, but I love it. I enjoy the cooking, photographing and editing. I love to write and come up with new ideas.
Now that we have children, it can be a bit of a challenge to find time to blog, especially when we have children who stay with us for a short term.
With Danny, our baby boy, he has become a part of our family and we have gotten into a comfortable routine together. Whenever we have a child who is with us for a short amount of time, it's not easy, since they are so little and it's traumatizing for them to go to a new home with complete strangers. Just when they are starting to get used to us and settling into our family, we say good bye. It's the hardest thing I've ever done, completely heartbreaking but totally worth it. I don't post pictures of short term placements anymore, because it creates too much confusion for the people that do not follow our family closely and read all the updates that I write here on the blog.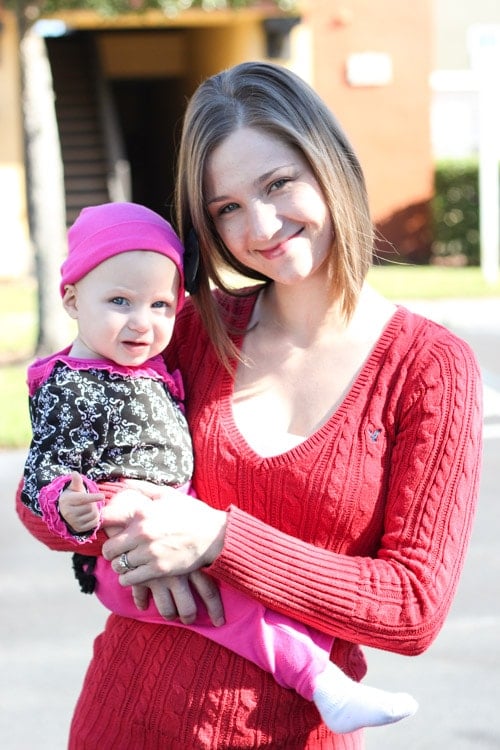 I wouldn't change it for anything and I love having little hands pulling at me to get my attention, getting cozy with them to feed them, or play with them. I've been dreaming of this for years, and I cherish every moment, every smile, giggle and even mess that they make.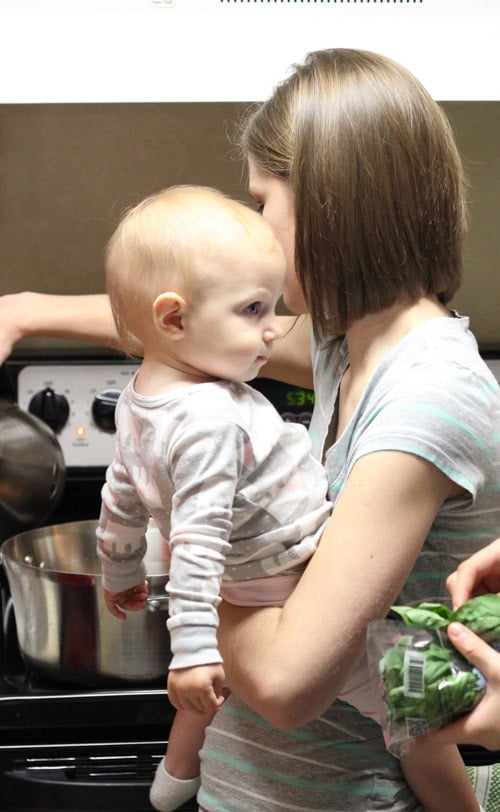 Of course, there are parts of blogging that I don't enjoy, but the positives outweigh the negatives.
For example, especially in the beginning, it was very hard for me to engage in social media. I am naturally an introvert and social media was not something I enjoyed. I just want to live my life and not stop to take a picture and post it online or answer a question. However, I've learned that it only take 5 minutes to post a picture and I really enjoy interacting with all of you. Instead of something I really dreaded, social media has become something I really have fun with now.
I still don't like the technical parts of blogging, having to learn code, SEO, etc. but that can't be helped and I'm ok with it. The more I learn about it, the easier it is and the more it makes sense.
I hope you enjoyed this peek into my world of blogging. Once again, I'd like to say a huge THANK YOU to all of you that visit my website, cook my recipes, share them with friends and family and take the time to comment.
The longer I blog, the more I realize how much I have to be thankful for. Most of all, I give thanks to God. He is the one who gave me the ability for cooking and writing. I also am amazed that I never run out of ideas, and for that, I am extremely thankful for, because I realize that is such a blessing.
Don't forget to go enter the GIVEAWAY for the KitchenAid stand mixer!