The Best Food To Share With New Parents or Those Recovering After a Hospitalization
Do you have any friends who recently had a baby or were hospitalized? One of the best ways you can support them is by giving them the gift of food. There is nothing like a delicious meal or a basket of muffins that will say "Congratulations" or "Get Well Soon" in a very tangible and appreciated way.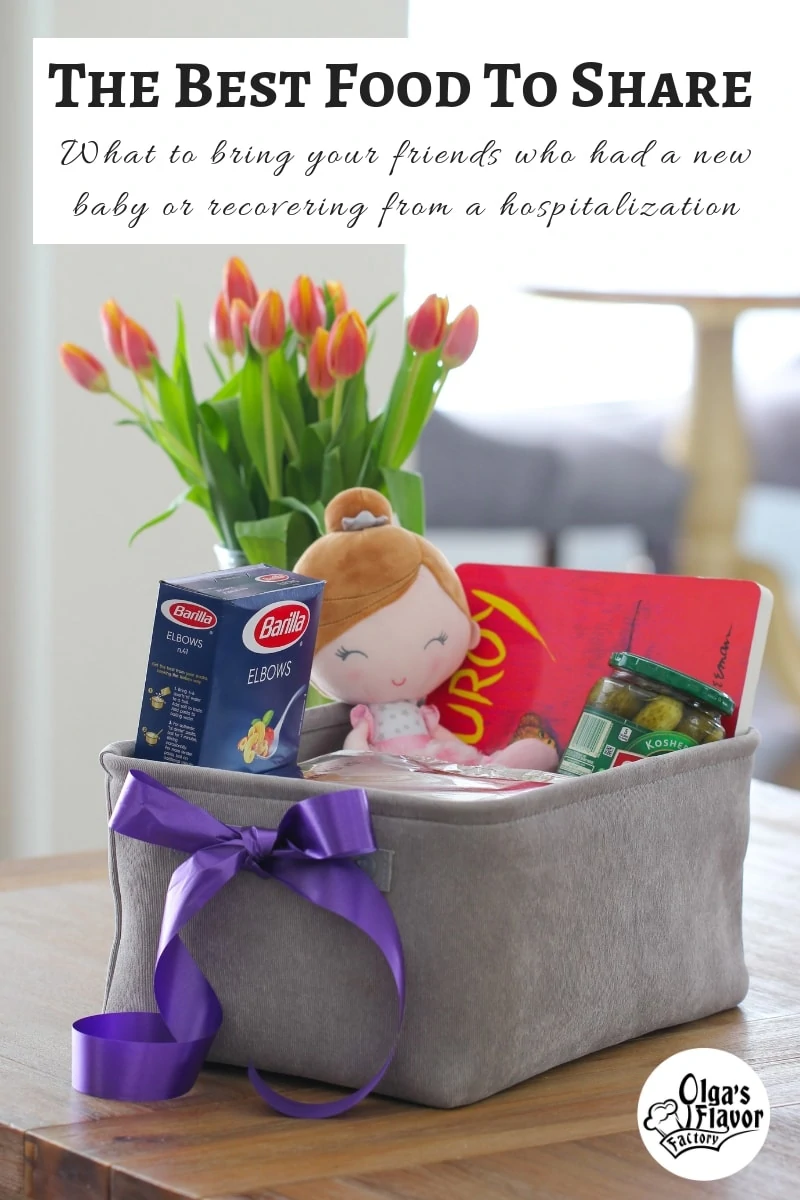 I've been hospitalized so many times, I lost count a long time ago. When you've had more than ten surgeries, you kind of stop counting after a while:). I've also had 3 c-sections, so I think you can trust my advice on this subject.
If someone in your family or community had a baby or was hospitalized, recovery can be difficult and a long process. No matter how quickly or slowly people recover, it's always disruptive to their usual daily lives, whether this was expected or not. This can be a very emotional, exhausting and stressful time for people, sometimes completely devastating and traumatic, other times so exciting and joyous. In any case, food is always a necessary part of this season of change and transition, and is usually the last thing on their minds. You can make it so much easier for them by putting in a little effort and either making some homemade food to share or bringing them some take out or groceries.
If you're not sure what to bring, I've got lots of great ideas for you.
Watch the Video:
Dinners:

Soup
There is absolutely nothing as comforting as soup. Chicken soups are obviously great choices, but there are so many others you can bring. Pack it in with a loaf of bread, rolls or biscuits and I'm sure it will be a big hit. I like using a large glass mason jar for the soup, since it won't spill.
A few of my favorites to give:
Meatballs, Kotleti, Chicken Fritters, etc.
These all reheat wonderfully. Your friends can reheat them, freeze them for another day, etc.
Pair these with some potatoes, rice or pasta, add a salad and they have a complete meal. If you're giving a complete meal, make sure to include the salad dressing and other components of the meal. It's a really nice touch when they don't have to go grocery shopping at all to eat your meal. If you're bringing potatoes, it's best to have it already cooked, but pasta is something easy that they can do on their own, so if you include it with the meal, they can make it themselves when they are ready to have dinner.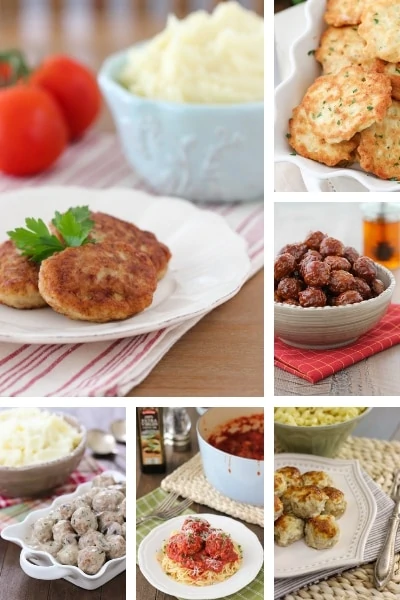 Other Options: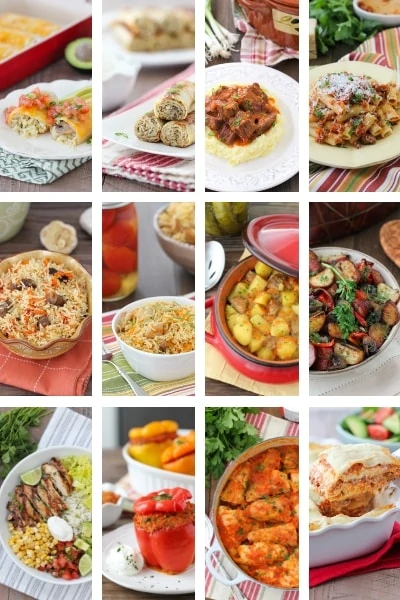 Breakfast
Breakfast is a wonderful idea for you to bring to your friends. Pack up a basket with some muffins, coffee, tea and a pack of diapers, and your friends will think of you with warmest thoughts first thing in the morning. You can also stop by a bagel shop and bring by a box of assorted bagels with cream cheese, jam, deli selections and coffee/tea.
Buttermilk Pancakes (They reheat really well, so even if you deliver these the night before, your friends can just reheat them in the toaster.)
Cranberry Orange Muffins (or use strawberries instead of cranberries)
Quiche (another hot meal that reheats perfectly and can even be frozen and then reheated)
Practical Tips For Bringing Food To Share With Others: 
The best food to bring is something that will reheat well.
Ask them if they have any allergies or dislikes. If you're brave, ask them if they have any particular cravings. (Maybe you can cook them something that they particularly love that's your signature dish.)
Disposable dishes are the best. Please don't place the burden on them of having to wash and return your baking dish, pot or plate. They've got enough to worry about.
Drop off the food and don't stay for a visit, unless you know them REALLY well and they are begging you stay and chat. Most people are too polite, but they don't want to clean their house and prep themselves in order for you do your good deed. This is about them not you, so think about what will serve them best.
If you don't have time to cook, you can bring them their favorite take out, give them a gift card to a restaurant (extra points if you know they like it) or even a gift card to a local grocery store.
If someone is very ill, you may be worried that they may be on a specific diet or maybe not eating at all. That could certainly be the case. The easiest way to find out is to just ask. However, even if the patient isn't eating anything, their family still needs to eat though. They are probably eating the gross hospital cafeteria food or getting takeout so your gift will be such a nice change.
If someone you know has a big circle of friends or a big family, it's easy to assume that their refrigerators are brimming with food. Very rarely is this the case, in my experience. Maybe because everyone else makes the same assumptions as you. Even if they have people bringing them food, they will most likely be so grateful for an extra dinner to enjoy later. This is especially true after the first week back home and any time after that, when the newness wears off, people stop coming, but the family is still in thick of recovery.
Above all, please don't come for a visit and eat the food that they worked so hard to prepare. This may seem obvious, but it happens, trust me. They didn't take time to prepare some freezer meals before they had the baby/ had their surgery, for you to come and eat it up. If you're coming for a visit, you bring the food.
If you want to go above and beyond, pack the food in a cute basket and add some books, magazines, movies, a new toy/book for the baby, a pack of diapers, etc. in a addition to the food. I remember one of my friends sent me a book to read when I was in the hospital and it gave me something to do. Being in the hospital is pretty boring and time really drags.
Let's have some compassion and make sure our friends and family are taken care of. They're probably not going to ask you for help. Don't just say "if there's anything I can do, just let me know." They won't. You need to say – "I would love to bring you a meal. Would Wednesday at 5 be a good time for me to drop it off?"
If they ask you to stay for a visit, don't stay long. (I recommend no longer than 30 minutes.) Unless you're willing to help out in some way, deliver your package and go on your merry way. Their house is probably a mess, they are probably a mess, exhausted and don't feel good; they are probably not in the mood to chat and entertain you.
Life is full of ups and downs, celebrations and challenges and it makes them all so much more better and easier when you have understanding and compassionate people in our lives who choose to be involved and lend a helping hand when we need it.
Your family and friends will never forget your thoughtfulness. More importantly, you will serve them in a way that's truly needed and will be so appreciated.
This post was originally published on January 22, 2019. I have added a video to go along with it and hope you enjoy this practical content.