Decorating a Cake With a Chocolate Petal Design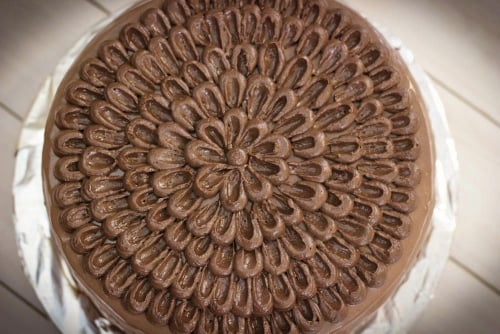 I am not a very artistic person, so when I find designs that are really easy to execute, I am so stoked. Doesn't this design look like a million bucks? If I saw this cake somewhere, I would definitely be impressed, but it took about 10 minutes to decorate and was SO easy. You'll see exactly what I mean.
I have the recipe for the frosting and the cake, so check those out, Chocolate Strawberry Layer Cake.
Start by frosting the cake with a thin layer of frosting, to make the surface smooth and even.
Place the frosting that you'll be using for the chocolate petal design in a piping bag fitted with a large round tip. Pipe out small dots all around the edge of the cake.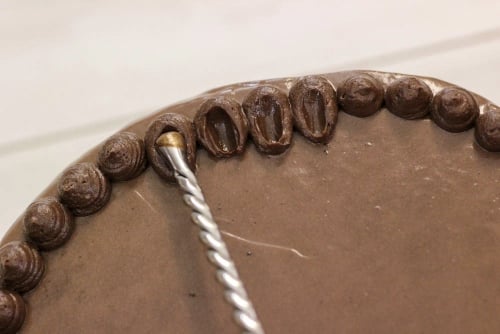 Since I was making really small petals, I used the tip of a small teaspoon to swipe down from the middle of the circle towards the center of the cake. If you want to make bigger petals, you can use a small straight edge spatula.
Repeat with another layer of dots and go all the way around the cake. Finish with one dot in the center.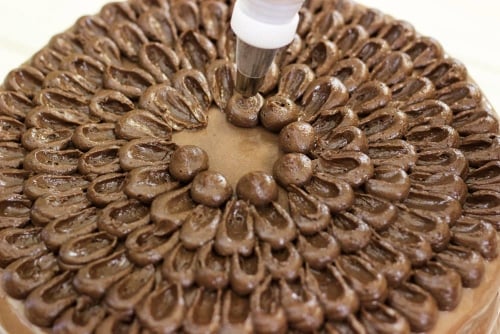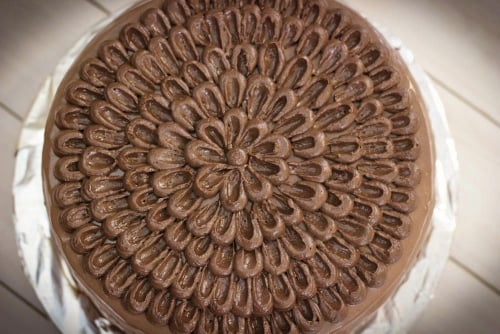 For a detailed tutorial on how to make the Chocolate Cage/border around the cake, click HERE.