Weekly Menu Plan With Ingredient List and Prep List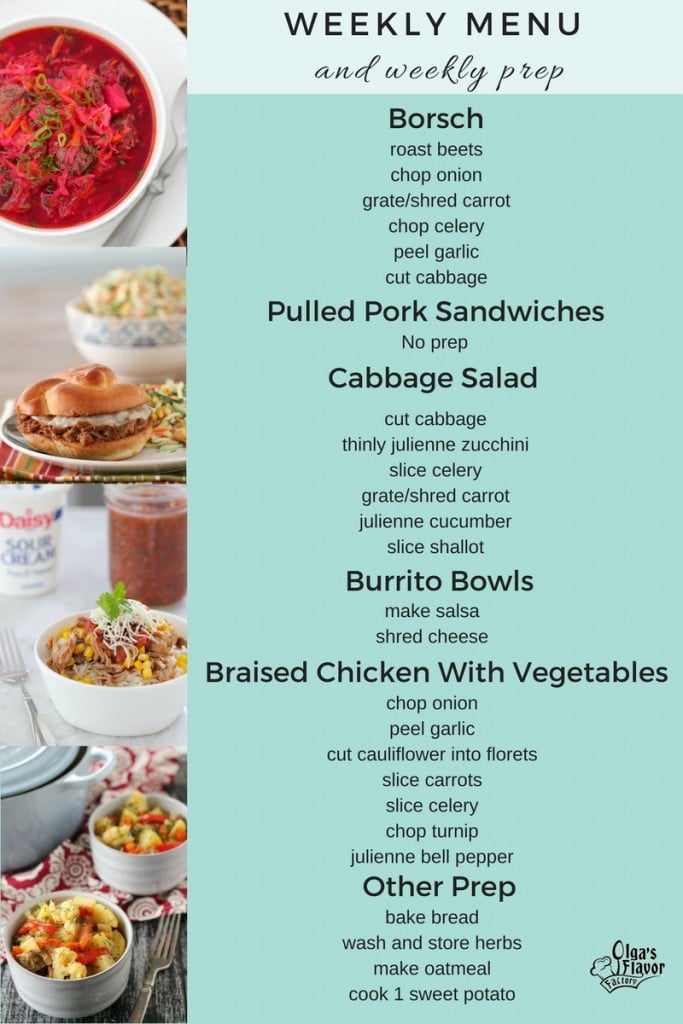 When I shared my Weekly Meal Prep blog post, I also promised to share some weekly meal plans to give you a better idea of how it all comes together and a give you a more detailed, intentional approach. Here's the first example of a meal plan, what I did to prep in advance and what I did on the day I served the meal. If I have a recipe for the meal, I will put a link to both the title and the photo of each meal. I also did a video of another weekly meal prep, so if you missed it, check it out here. 



Meals For the Week: As you can see, I am using a lot of the same ingredients in many of the meals, so that makes prep work not that hard because it's really easy to just do it all at once.
Dinner Meals
Borsch – My boys LOVE Borsch. Since it has so many different vegetables and is so filling, I usually make this every 2-3 weeks. Since there are so many vegetables in it, this is one of the most time-consuming meals that I make, but it's totally worth it for me. Plus, I make it one day and we'll eat it for 3 days, so that's another benefit. Sergi and I will usually eat it for dinner 2 nights and the boys and I have it for lunch 3 times. I have started making Borsch in the late evenings after the boys' bedtime or on the weekend when Sergi can watch them. Since the ingredients are already prepped, all that is left is to cook the beef (or make a Vegetarian Borsch, which I have a recipe of on my blog as well) and to peel and chop the potatoes. Everything else is ready to be added to the soup at the appropriate time. Besides adding things to the pot, stirring and adjusting the heat, that's all that you have to do. Isn't that amazing? If you've made Borsch before, you know that this makes a huge difference. I can just whiz right through it and it's ready for the next 3 days. (I don't usually make Borsch the same day that I do the weekly meal prep.)
Homemade Bread – I go through phases of making homemade bread. I'll make bread for weeks and then I buy it for a while. I don't know, that's just how it goes. I've been making bread recently. I make Sergi's work sandwiches with that bread as well as make toast for myself and sometimes we eat it with soup. This week, I made my very easy white bread.
Pulled Pork to be used two ways (You can also make Pulled Chicken instead of Pulled Pork. I have a recipe for that too and I use a slow cooker which makes it really easy too.) I made the pulled pork the same day I was serving it and used my Instant Pot to make it. It was fairly simple, with almost no prep. I don't usually prep meat the same day as I do the rest of the weekly prep. A lot of times, the meat is already prepped in the freezer. When I buy it in bulk at the store, I like to portion it out when I'm putting it away at home later.In this case, I just cut the meat and that was pretty much it for prep and then just cooked it. I tossed part of the pork with barbecue sauce for the sandwiches and saved the rest to be used with the Burrito Bowls.
Pulled Pork Sandwiches With a Cabbage Salad For the sandwiches, I sliced the buns, toasted them in the oven, then placed the meat (with BBQ sauce) on the bun, topped with a slice of cheese and put it back in the oven for a few minutes just until the cheese melted. We also put some mayo and pickles on the sandwiches and served the Cabbage Salad on the side.Cabbage Salad – I make this salad often and I basically use whatever I happen to have in the fridge at that time. This week, I had 1 zucchini, 1/2 can of corn from another recipe, celery, carrot, cucumber, 1/2 shallot that I wanted to use.
 Day of serving meal: I put all the prepped veggies in a bowl, added an apple, the canned corn, lemon juice, fresh herbs, salt, pepper, a bit of mayo and sour cream and tossed it all together. It takes me less than 10 minutes to put it all together. 
Burrito Bowls With Pulled Pork
Day of serving meal: Cook the rice and reheat the pork (by the way, you can cook the rice in advance too. It reheats really well or you can freeze it.)  Click on the picture below to get the recipe for cooking perfect rice. It's so easy and quick.Serve the pulled pork (or chicken) over rice, along with the salsa, shredded cheese, canned corn and sour cream. We had leftover ingredients from the Cabbage Salad, so we had it again. It's SO good. Other weeks, we have the burrito bowls with guacamole (avocados were really expensive that week) or some sort of easy lettuce salad.The boys and I had the leftover Burrito Bowls the next day for lunch. I just reheated everything in a skillet. I used some of the shredded cheese and the salsa to make myself an omelet for breakfast too.
Braised Chicken and Vegetables This is a great easy dinner. It all cooks in one dutch oven, is full of veggies and is pretty healthy too. It also reheats well as a leftover, so I always make enough to eat it twice. To go along with this meal, we had a Tomato Cucumber Salad, but since it has so many veggies, you can omit the salad.  
Day of Serving Meal – Cut the chicken into cubes (you can do this in advance too), peel and chop potatoes and all the other veggies are ready to go. Sometimes I prep the potatoes in advance. However, you need to cover them completely with water, otherwise, they will get brown.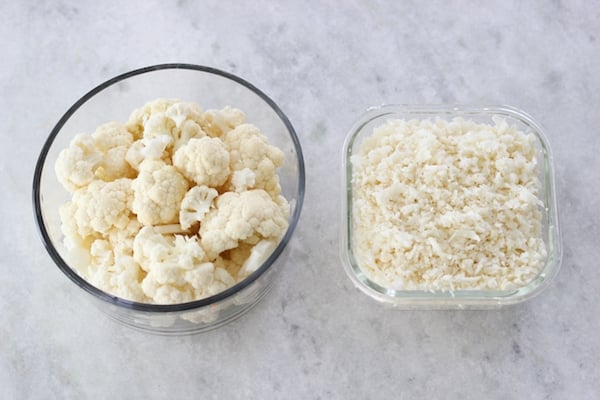 I used part of the cauliflower for the meal and shredded the rest of it to be used in a salad a few days later.
Other Prep
I also made several portions of oatmeal in the Instant Pot and cooked one sweet potato that I gave Josh for lunch several times.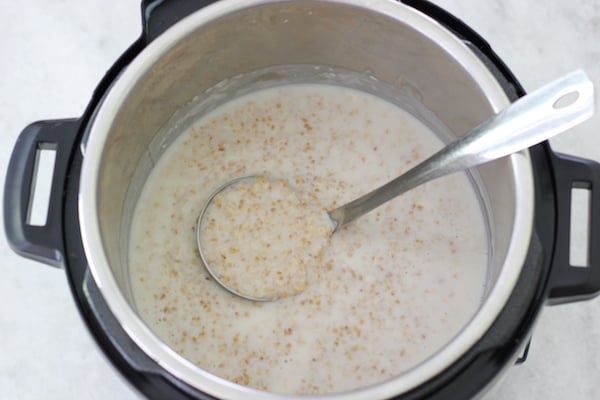 Both my baby and toddler love oatmeal more than any other breakfast, so we have it 3-5 times per week for breakfast and on the days that we have something else for breakfast, I sometimes give them oatmeal for lunch or as a snack. It's great to have on hand and it's very easy to cook. I have 2 different oatmeal recipes on my blog that use the stovetop method.
Bananas Foster Oatmeal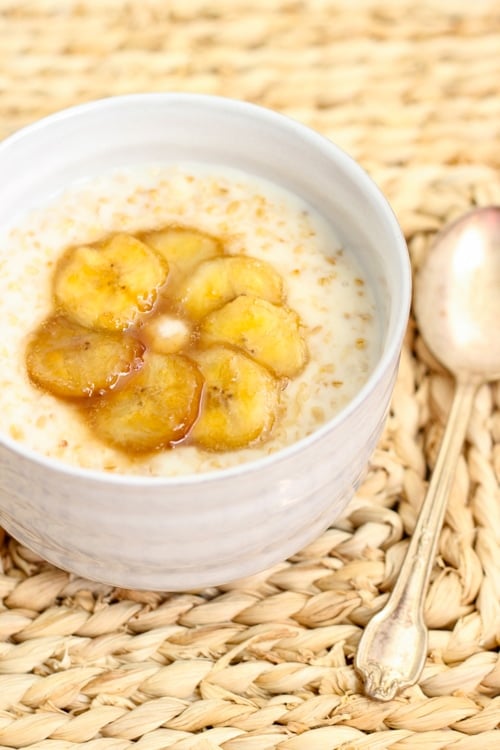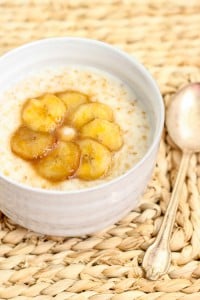 Butternut Squash and Apple Oatmeal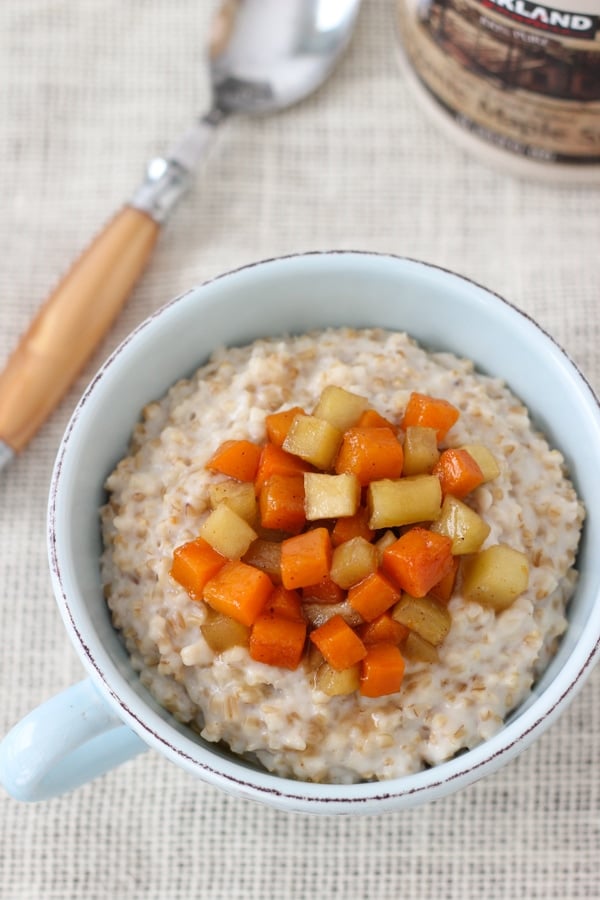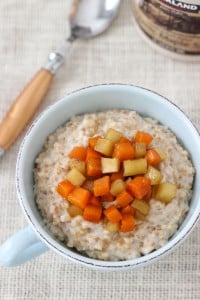 When I prep in advance, I make the oatmeal plain, without any additions and then I can add different toppings to it when I serve it. Sometimes, I cook up some berries, or some apples and then we add it to the oatmeal. Other times, I add fresh fruit, such as blueberries or banana. Also, I keep it very simple with just a bit of maple syrup or a dash of cinnamon.
My husband prefers old fashioned oats, so that's what I make when I make it for all of us, but I like to use steel-cut oats when I'm making it for just myself and the boys.
Instant Pot Steel Cut Oats Recipe: 1 cup steel cut oatmeal, 2 cups water, and 1 cup milk, 13 minutes, high pressure, natural release or 15 minutes, high pressure and quick release. I usually make 2-3 cups of oatmeal at a time.