Want To Be A Better Food Blogger?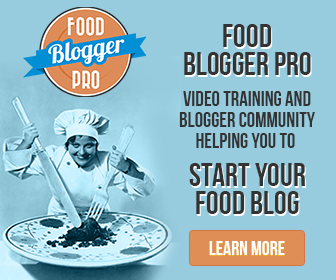 When I started my blog, I had no idea what a blog was. True story. I'm not good with computers and anything technical, so I had no idea what I was doing for a long time. I often say that there were many times that I felt like my brain would start smoking from the overload of information that I was trying to process. I had to stumble my way through the very beginning of my blog. I google a lot and learned by trial and error.
Then, I heard of a website called Food Blogger Pro. Bjork and Lindsay started this amazing course for other food bloggers to help them grow their blogs. I wanted to cry in frustration and with joy when I signed up. How I wished something like this was available when I started my blog! The headaches it would have saved me. However, Bjork and Lindsay, the creator of the really popular and successful food blog, Pinch of Yum, break everything down in human language, and there are tons of videos on all kinds of subjects where they share all the secrets of becoming a successful blogger. Subjects like Getting Started, Building Traffic, Food Photography, Generating Income and much more are all there. I highly recommend signing up for Food Blogger Pro. I've been a member for a while and I've learned so much.
I had to tell you this now, because in just 2 days, Food Blogger Pro will be closing their doors to new subscribers. They have decided to make it kind of like a college enrollment, where they accept new members only a few times a year and will be able to focus on the current subscribers best. If you want to get the membership, you need to act fast, and I just couldn't not share this with you. It would be really selfish of me to keep this secret tool to myself.
Public enrollment will be closing on 

November 19th at 11:59PM CST

.
The next public enrollment won't happen until Spring 2016.
Total membership will be capped at 2,000 members.
A membership includes full access to the community forum, the training videos, the nutrition label generator, and the progress tracker (coming soon!).