Buying Our Kitchen Appliances On Craigslist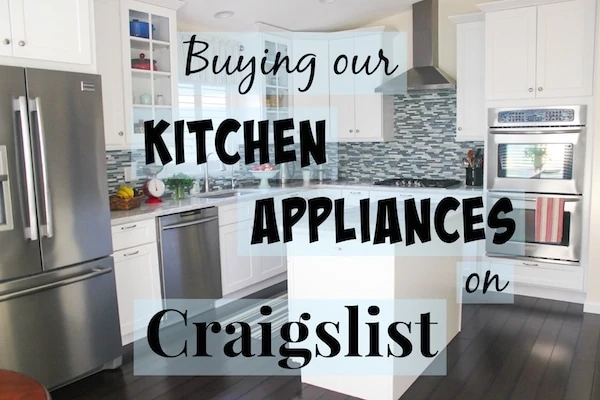 When we bought our house last summer, we gutted our entire kitchen and remodeled the whole thing – cupboards, counters, island, walls, ceiling and floor. We also upgraded the appliances to nicer stainless steel ones from the ones that came with the house. We knew that a great way to stretch our budget was to buy used appliances instead of brand new ones. I also didn't care if all the appliances were the same brand, so that widened our options quite a bit. You can read all the details of the rest of the kitchen remodel in this post.
First of all, we sold all of the simple, white appliances that were in the original kitchen. They all worked well and were in pretty good shape, so that was another way we were able to stretch our budget even more.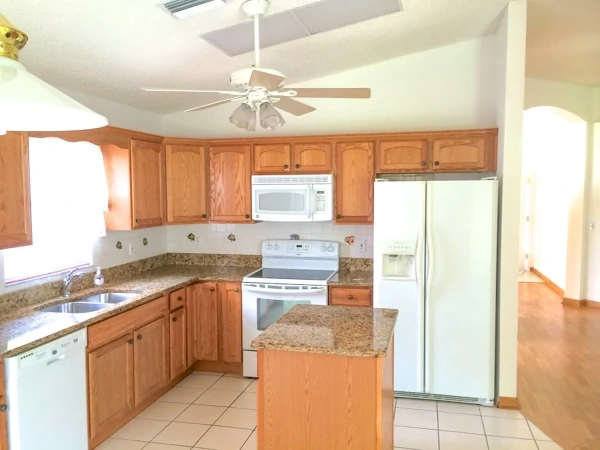 We looked for appliances at some outlet stores, but didn't find the kind we were looking for at the time we were searching. That is another great option, it just didn't work out for us this time. In the end, we ended up buying almost all of our appliances on Craigslist.
Double Oven
Frigidaire Electric Oven Model #PLEB30T9DCC. This particular model isn't even sold anymore. Here's a similar model.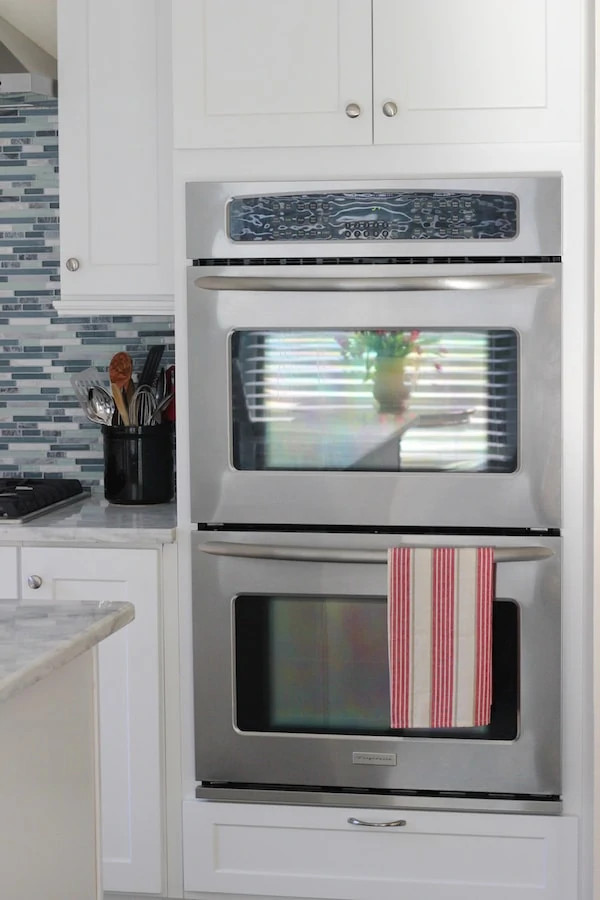 Having a double oven is a dream come true. It's so convenient to have two ovens, since we have people over for dinner parties and have over night guests A LOT. At least a few times each month. I knew I would get good use out of both ovens. It's great being able to cook your entree, side dish and dessert all at the same time.
We found this double oven on Craigslist for a fraction of the cost of a brand new one. Unfortunately, the gentleman who sold it to us was going through a divorce and was allowed by the lawyers to sell his kitchen appliances. He told us that the oven was still in perfect condition. It sure is. It looks like he hardly ever used it and the bottom one looked brand new. I've been using it all year and haven't had any issues at all. I love the convection option that these ovens have.
We Paid: $700
New Model: $1,699
We saved: $999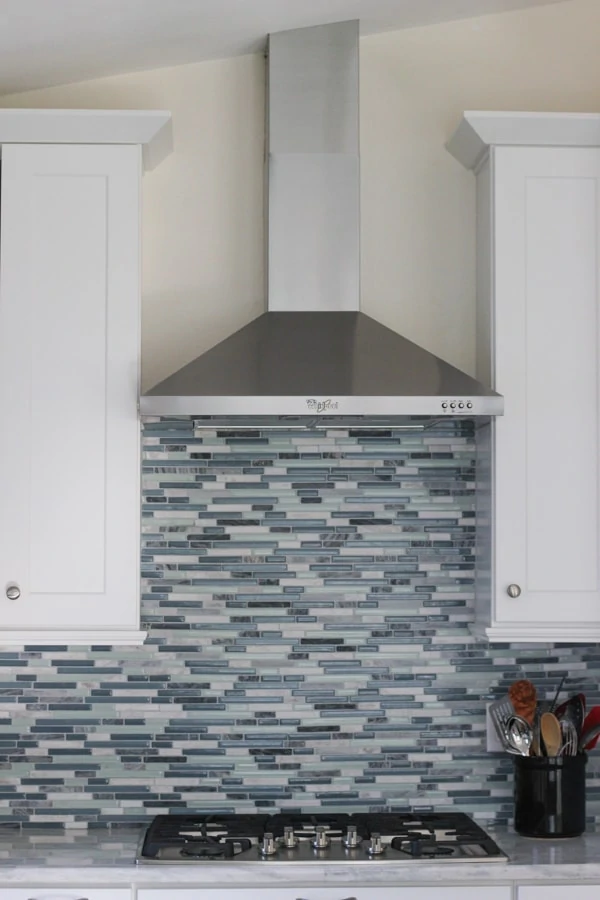 Having a powerful hood was my husband's explicit request and I am so glad we got it. With so much cooking going on at our house, this robust beastly machine keeps the smokiness and odors at bay. Sergi and my Dad installed the hood so that the exhaust goes through the attic and then the side of the house. This way, the smells are all suctioned and expelled outside, not blown around uselessly in the house. Now anytime I am searing steaks indoors, cooking fish or cabbage soup, the air in the whole house isn't permeated with all those odors for days. When we lived in apartments, I used to have to open all the windows, doors and turn on the fans for a few hours during and after cooking to get the air smelling fresh again. Those wimpy apartment hoods just made noise and moved air around but didn't do any good.
Even though it's so powerful and effective, I think the noise isn't too loud at all. It doesn't get too dirty either. I've only had to clean it a few times, and then I just sprayed it with all purpose cleaning spray and wiped it dry.
The seller was a contractor who bought this brand new hood for a client, who ended up not liking how it looked and bought another one. How cool for us? We scored a brand new hood! It was still in the original packaging.
We paid: $170
New model: $599
We saved: $429
Refrigerator
Frigidaire French Door Refrigerator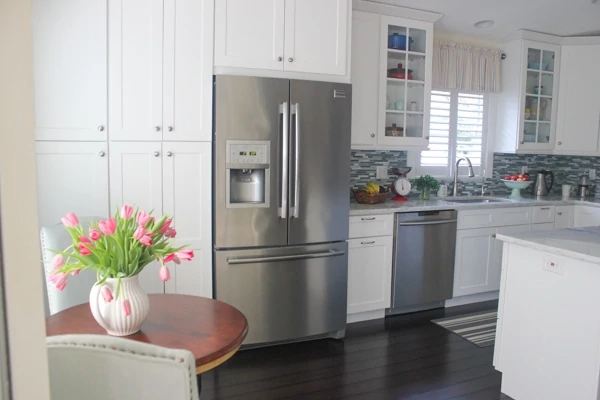 I love our French door refrigerator. Not only does it looks really sleek and elegant, it's so roomy. I can fit so much more food in it than the other refrigerators that I had before. It's also really convenient for big items, like cakes, or when I have a large roast or even turkey prepped ahead of time. I can move the shelves around to fit whatever I need.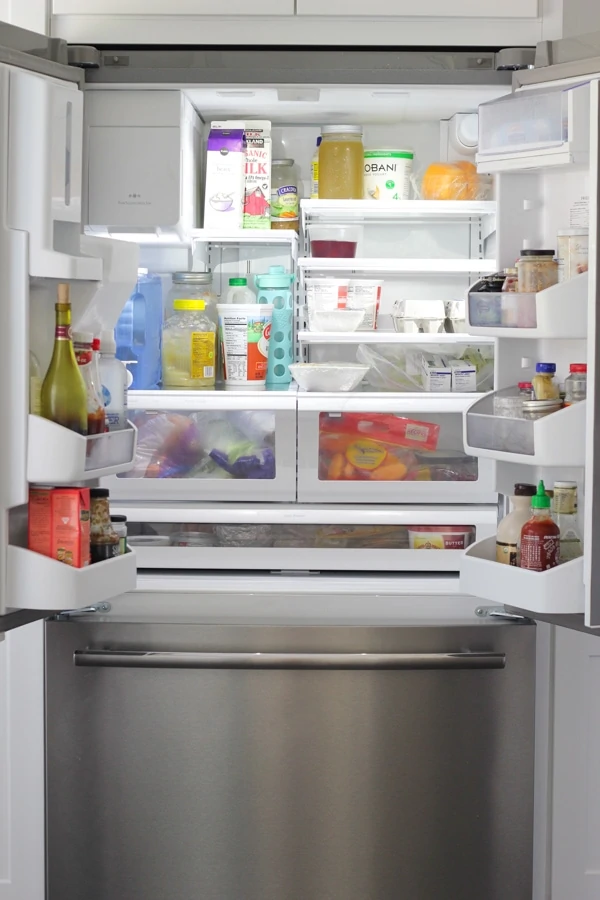 The bottom freezer is very easy to keep organized. Since the drawer is divided into 4 sections, it's really easy to see everything and to divide different food into their own space.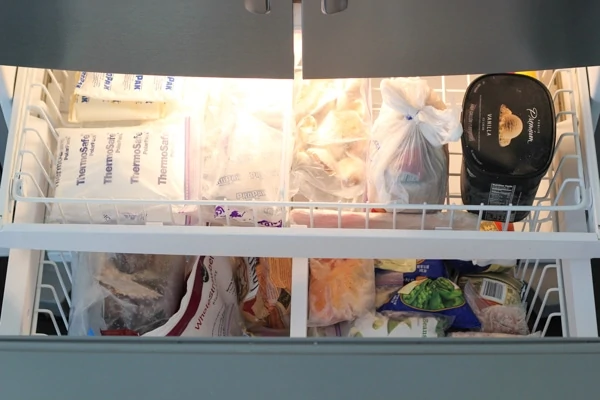 We also bought this for a fraction of the cost on Craigslist and also are so happy with the way that it's working.
We paid: $750
New model: $2649
We saved: $1899
Dishwasher
Samsung Top Control Dishwasher Model#DMT800RHS (this model is also no longer sold.) This is a similar dishwasher.
The dishwasher was a learning experience. The sellers had the dishwasher stored in their garage. They told Sergi that they had recently upgraded to a newer model and that this dishwasher still worked perfectly. There was no way to test it, so we decided to buy it. Well, when we installed it and turned it on, we quickly found out that it wasn't in perfect condition. In fact it didn't work at all. There was an error message on it. When Sergi and my Dad took it apart, they found one of the hoses was cracked. The sellers stuffed some paper towels into the water sensor, so the sensor wouldn't come on right away. The sellers definitely knew about this issue, since they had tried to cover it up.
That didn't stop us. Doing some research online, my Dad figured out what the problem was, Sergi bought a replacement part online for about $20 and with the help of a YouTube video fixed the dishwasher and it works great now.
Moral of the story, don't trust sellers. They will lie straight to your face. If we sell things on Craiglist, we are honest and reveal any problems that an item has, but not everyone is like that. From that day, we carefully test everything out before we buy it. If we can't test it, we just don't purchase it. It worked out for us in the long run. However, I wouldn't recommend this particular dishwasher. I really don't like the way it is set up and the way you have to load the dishes is very awkward for me. When we have some extra money, I would love to get another dishwasher, but for now I can't justify spending money on another one, since this one does the job. It also looks really nice, and we especially like that the controls are on top of the door, not on the front of the panel.
We paid: $150
Hose: $20
New model:$699
We saved: $529
TOTAL saved on appliances: $3856
That's pretty incredible!
The only appliance that we didn't buy on Craigslist was our gas cooktop, and that's simply because there wasn't one available in the size that we wanted on Craiglist, no matter how long I looked for it. I am really happy with the cooktop that we bought. You can read more about why I chose to get a gas cooktop in this post.
We saved so much money by buying used appliances. Buying brand new, matching stainless steel appliances would have been nice, but the price really bites. With all the other remodeling work that we did, we didn't want to deplete so much of our savings. It's a good thing we didn't, since I was already pregnant at the time and we didn't even know it. The pregnancy, home health care, hospital stays, delivery and recovery were VERY expensive. That is a really good reason to have an emergency fund, you never know what may happen. Happy surprises can be very pricey too:).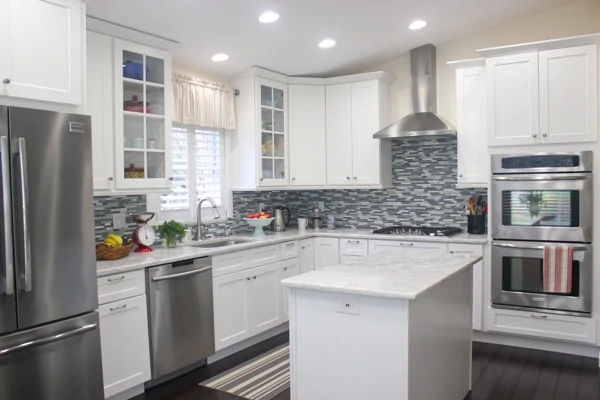 You know what, though?  The appliances work great, they look good (in my opinion, anyway) and the food that I cook is still the same. If I cooked on the cheapest possible appliances for years in all the apartments that we lived, and the food turned out well, I can certainly be very happy with the much nicer appliances that we have now. The quality of food has nothing to do with the appliances that you use anyway, unless it has major problems.
I hope this post was informative and encouraging for you. If you have any questions, I will be happy to answer.
Do you have any kitchen remodel stories to share? How about buying or selling on Craigslist? I'd love to hear your experience.