Welcome to my kitchen! Come on in and I'll walk you through the kitchen and share how I organize it and maximize the space so that it serves our family well.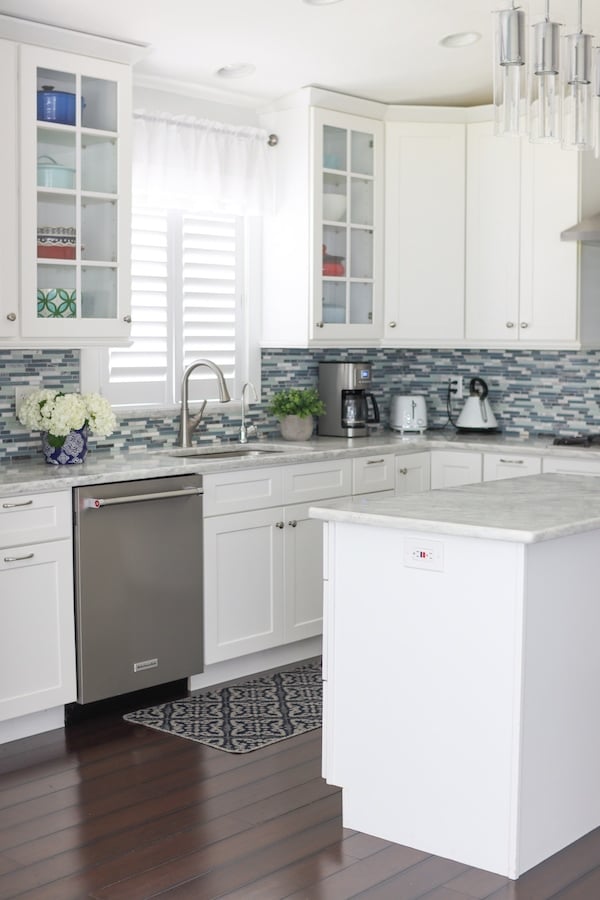 The kitchen has always been the heart of any home that I've been part of, no matter how humble or grand. Since cooking is a big part of my life – I've been sharing recipes online since 2012, of course the kitchen is where I spend the majority of my time.
Today I am going to walk you through my kitchen, sharing some of my favorite things about it and why it works so well for our family. Watch the video where I open all the cupboards and drawers and show you how I use this space.
Olga's Flavor Factory Kitchen Tour Video:
This is the very first home that my husband and I bought in 2014. Remodeling the kitchen was the first project that we tackled and the kitchen is still my favorite room in the house.
Our Kitchen BEFORE We Remodeled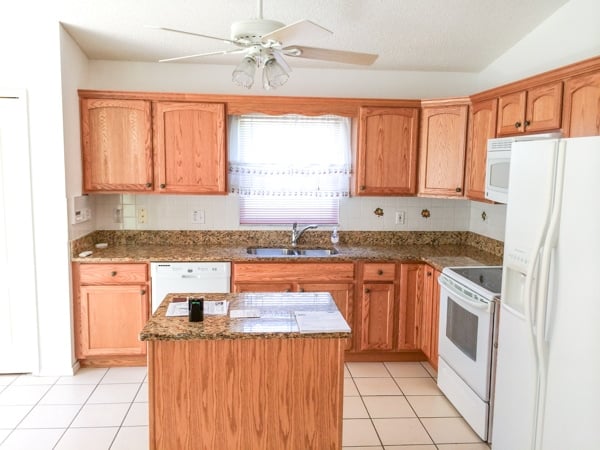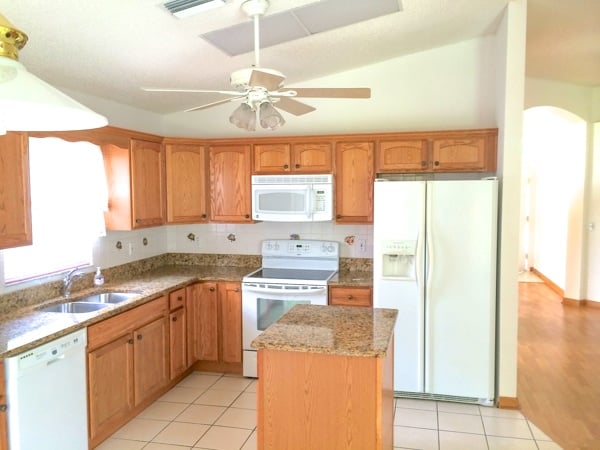 I shared a blog post when we first moved in and showed the major transformation that it went through.
Remodeling Our Kitchen in 2014 You can see more "Before" pictures and some of the remodeling process pictures, as well as get more details about the remodeling process and what we did to make it what it is now.
Today is a more in depth look at this space, 6 years later, after we've settled in, made changes and adjustments, and I'm sharing how I organized this space and how we use it. I'll take you through all the cupboards, drawers, pantry and more.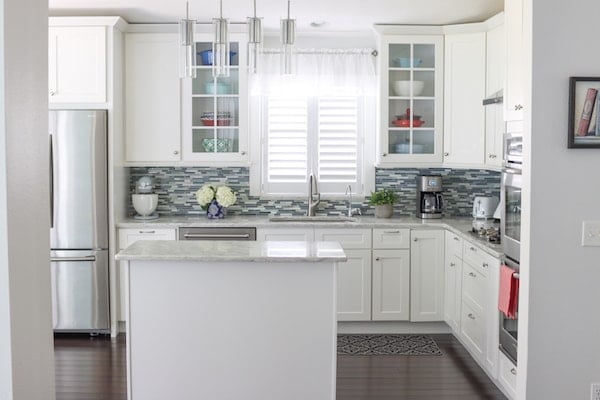 Kitchen Cupboards – White Shaker Style Cabinets
Kitchen Hardware – Cupboard and Drawer Knobs, Drawer Pulls
Countertops – Everest White Granite
Backsplash – Bliss Waterfall Linear Blend Glass and Stone Mosaic from Floor and Decor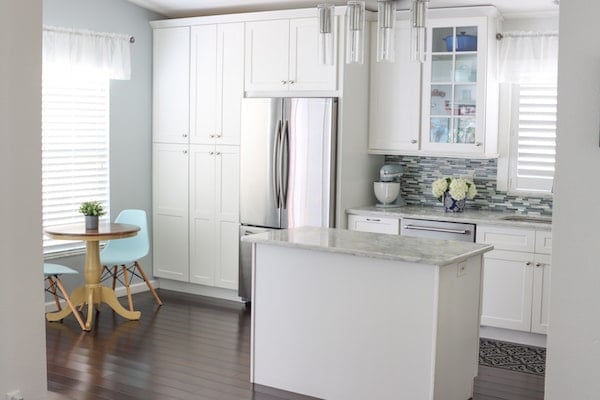 Flooring – Peking Antique Click Strand Bamboo flooring from Lumber Liquidators. This particular floor hasn't held up well and I think it was recalled. I know that there was a class action lawsuit about this flooring because so many people had issues with it.
Check out the Kitchen Remodel post for more information about the kitchen. I go through everything there in more detail. I listed all of our appliances in that post too. Since that remodel, we've replaced our dishwasher and our refrigerator.
Refrigerator – Samsung 28 cu. ft. large capacity 3-Door French Door refrigerator
Dishwasher – Kitchen Aid Top Control Built In dishwasher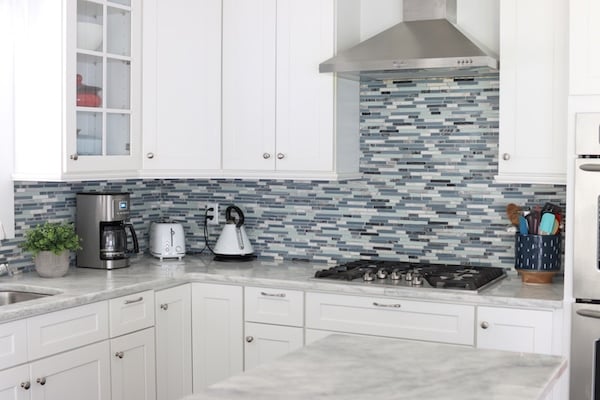 Why I Chose a Gas Cooktop – Another more detailed blog post all about my stove.
Our sink is a Single Bowl Undermount Stainless Steel Sink. I love having a single sink instead of a divided one. There is so much more room and I can easily wash large pots and pans in there with room to spare. It's also really deep, so it's great to stack all your dishes in to hide them from view while you're cooking, or to stack dishes while having people over. It clears up the cluttered look until you can finally tackle the dishes.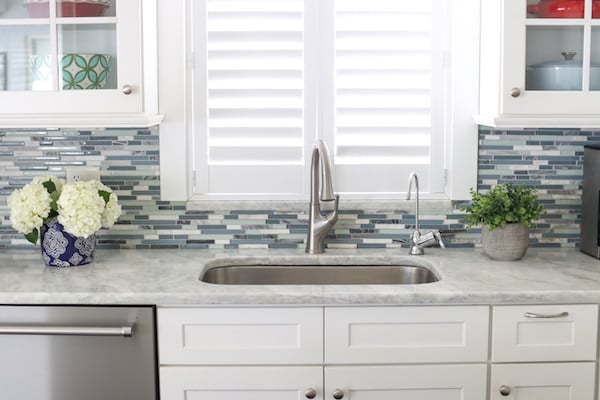 Want to See Inside My Refrigerator and Freezers? I have 2 videos sharing all the details on that as well.
Inside My Refrigerator Video
What's in My Freezer Video
Check out my ebook, A Home Cook's Handbook – A Practical Kitchen Resource Guide.
If you want to get more organized in your kitchen and meal planning, this is exactly what you need. It's packed with tested and proven resources, such as meal planning and meal prepping, pantry essentials, grocery shopping, freezer guide, reducing food waste, how to store groceries so they stay fresh longer, cooking for company and even a a list of essential kitchen tools, which are my recommended kitchen cookware, bakeware and kitchen items that I own and recommend.
I did so much research to put this ebook together and share a ton of useful and practical kitchen tips based on years of experience and testing hundreds of recipes.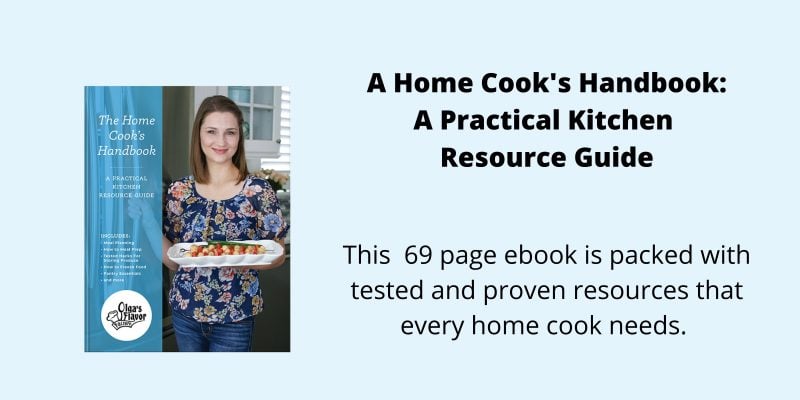 Things To Think About When Planning a New Kitchen or Remodeling a Kitchen:
If you're moving or planning a kitchen remodel, I highly recommend figuring out exactly what you want, what types of storage you need. Take into consideration how you cook, how your prefer to work in your kitchen, etc. I actually made a list of all the types of kitchen things that I owned and would need to store, what I some of my needs and dreams too. For example, since I'm short, I wanted to store most of the things that I would need to access the most in drawers in the lower half of the kitchen vs the typical cupboards. All my heavy and most often used kitchen appliances are in a corner cupboard where I can easily reach them but they are out of the way and not on the counter.
Our dinner plates are in a deep drawer right across from the dishwasher and the sink – so easy to get to and to put dishes back after washing them. Our pots and pans are also in deep drawers right below the stove and near the oven.
I wanted to maximize the space that we had and make the best use of it. I also wanted the organization and placement of everything to make sense and to be as convenient as possible. Island, dishwasher, sink, refrigerator, trash cans all a few steps away from each other.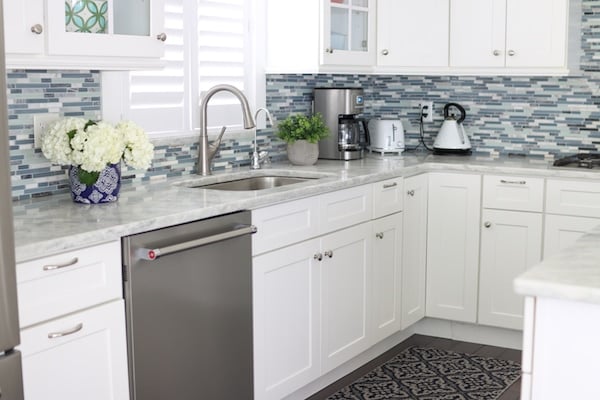 Other Resources:
Here's a post about my kitchen in the apartment where I first started Olga's Flavor Factory. The first 3 years of blogging were in this small kitchen space.
My Favorite Storage Containers – Includes pantry and freezer storage containers, meal prep and leftovers as well as lunch packing.
Favorite Small Kitchen Appliances
All About Skillets – In this post and video, I go over different types of skillets, which ones I own and recommend and what I use them for.
How To Maintain and Clean Stainless Steel Cookware – I use stainless steel cookware for the majority of my cooking. In this post and video, I talk about how to use stainless steel cookware and how to clean it.
Check out my Amazon Store where you can find many of the things that I own, use and recommend, including cookware, bakeware, small kitchen appliances, kitchen tools, and much more, including books, favorite items for children and other miscellaneous items.
I'm so thankful for this kitchen and am so grateful that I get to cook for my family here as well as create many recipes to share with all of you. It's my dream come true!