The kitchen is truly the heart of our home and this year we made some updates to it that made it even more functional and beautiful. The white and light gray cabinets tie in with the marble countertops, blue tile backsplash and champagne bronze hardware. Come take a look at this video tour!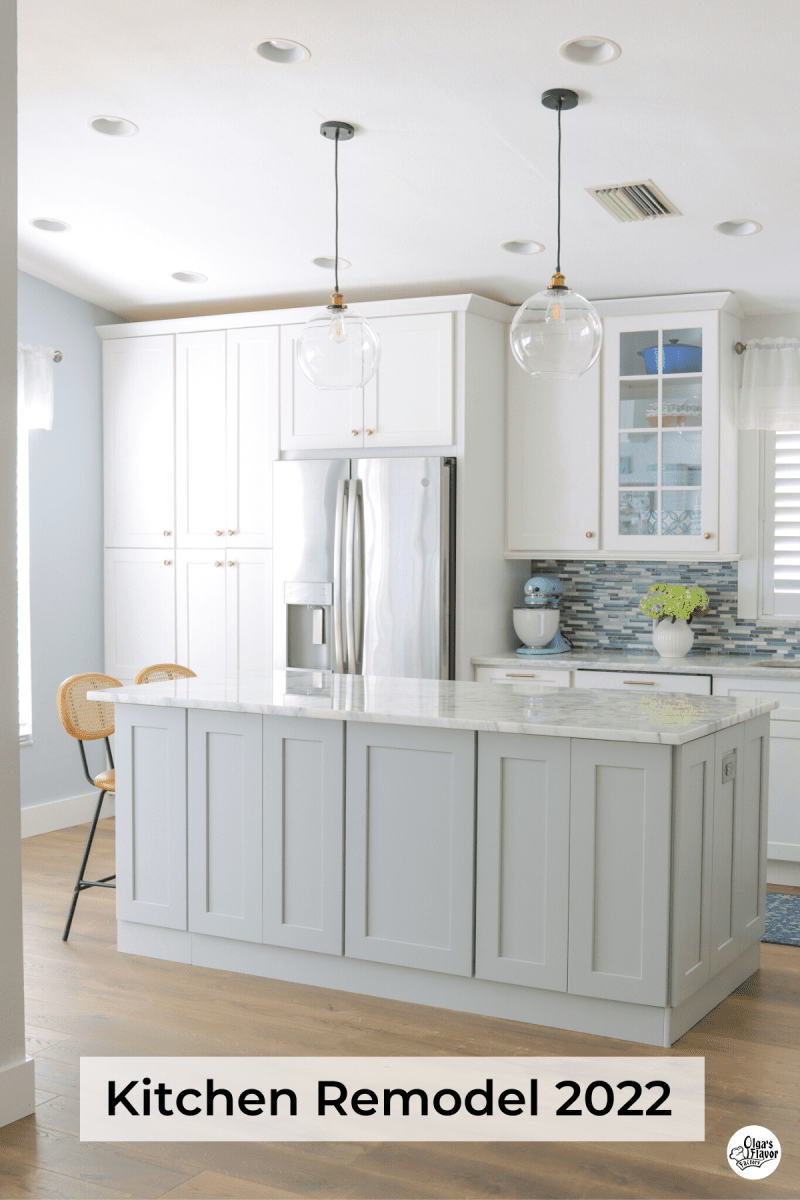 In 2014 when we bought our home, remodeling the kitchen was one of our first projects. We loved it and have been enjoying it all these years. You can see more of that initial remodel in this post as well as this one, where I shared a Kitchen Tour. I am so excited to share our kitchen remodel 2022!
This year, in the beginning of the summer, our dishwasher started leaking and caused a lot of damage to the floors, which started this second round of remodeling. I shared a lot of that experience in this video on my Youtube channel. (Consider subscribing to my Youtube channel if you want to see all the new videos as soon as I upload them.) We had to replace all the floors in the house and, since we were already doing so much construction, we decided to make a few updates to the kitchen while we were at it.
Video of the Latest Kitchen and Home Remodel
Before and After (Kitchen 2014 vs Kitchen and Home Remodel 2022)
I love seeing before and after pictures of house projects. It's so much fun and is amazing to see the transformation.
If you do any remodeling, I highly recommend taking lots of before pictures and videos as well as during the process. We didn't take much pictures and no videos while we did the initial remodel and we really regret it. When the remodel is complete and you're living in it, it's easy to forget how far you've come. Every time we look through some of those old photos, it makes me appreciate the finished project even more.
Kitchen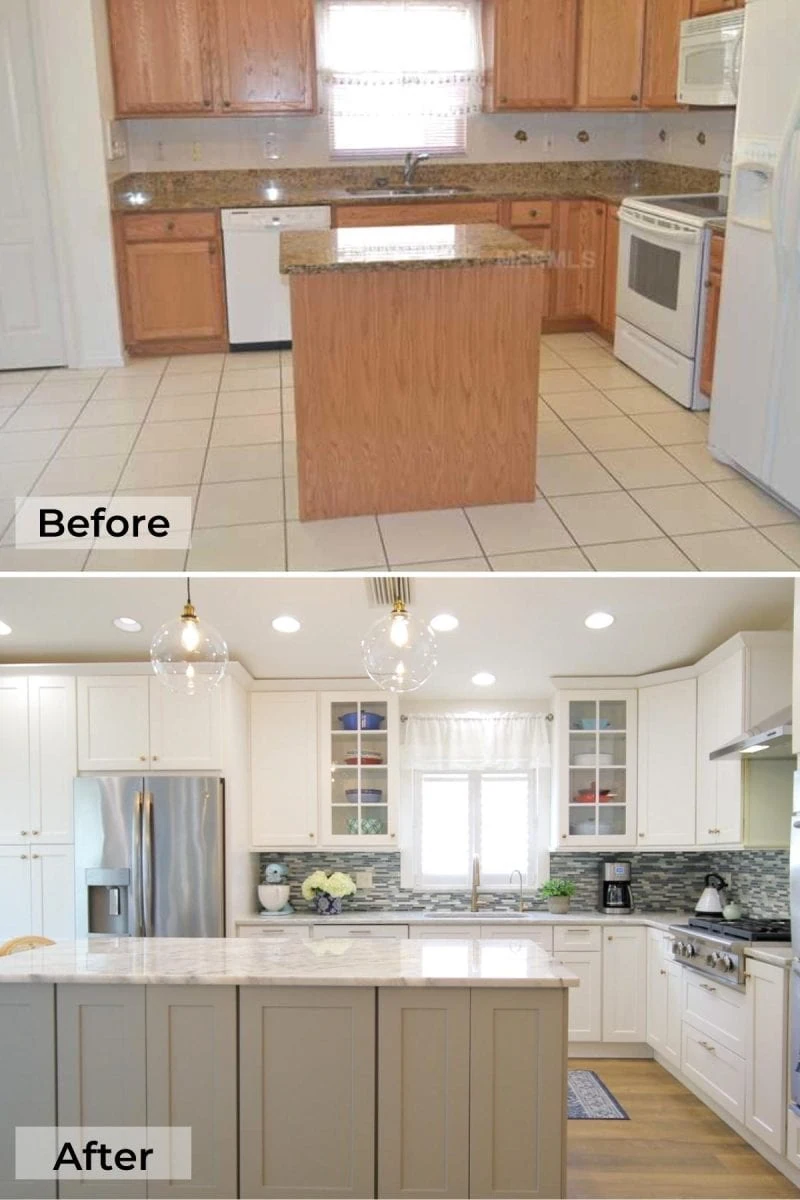 We added a bigger island and a more powerful gas cooktop. The first one we bought was a very inexpensive model, it served us well for 8 years, but it was time to replace it. One of the kitchen grates broke, so we tried to find a replacement, but after more than a year searching, we weren't able to find one. My husband tried to fix it, but that was only worked temporarily before it broke again. It wasn't safe at all, since it would often break off with a heavy pot on it.
The knobs were also very shabby and kept falling off all the time. We replaced those, but the replacement knobs kept falling off as well. This was annoying, but also unsafe, since the knobs fell off in the middle of cooking, while I was trying to turn down or turn off the heat, then I wasn't able to turn it off and had to pull hot pots off while the heat was still on. Long story, long, we decided to get something more powerful and we love this new addition. I wrote another blog post all about why I chose a gas cooktop, so check it out and let me know your favorite cooktop too.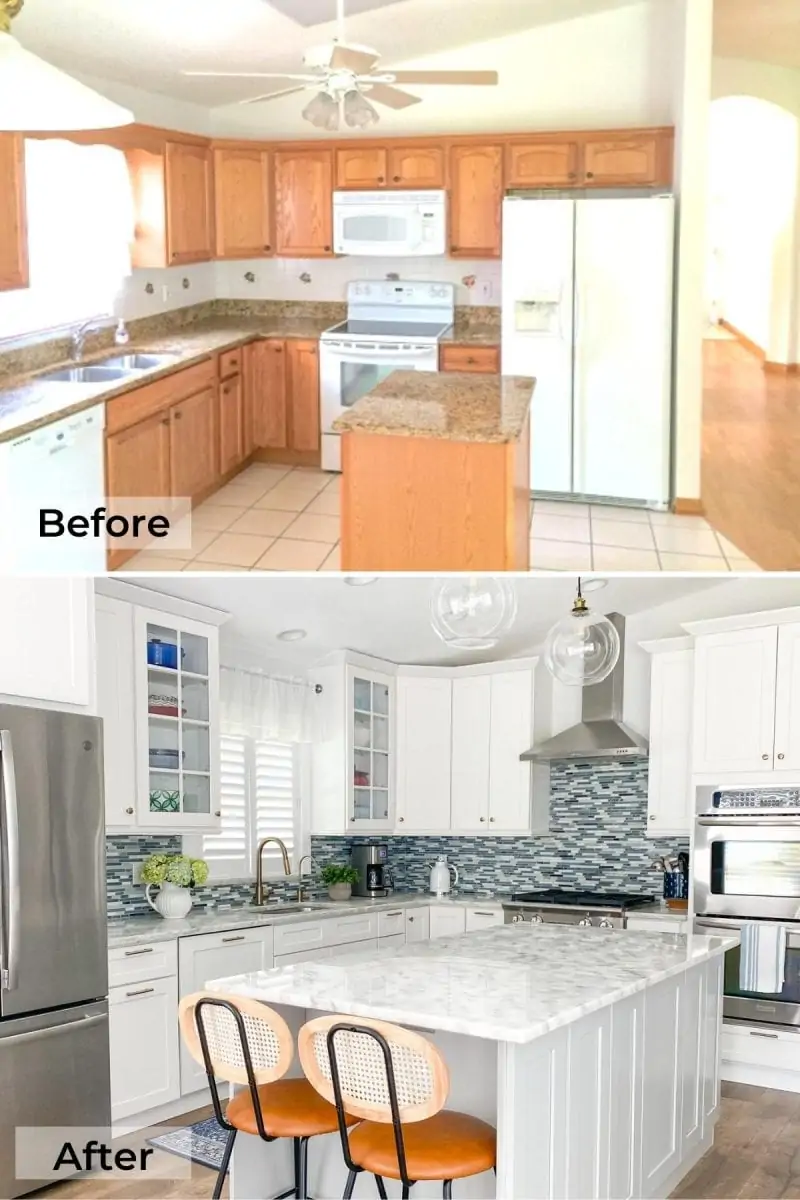 Kitchen, Dining Room and Living Room
Since we were replacing all the floors in the whole house, we decided to remove this wall with arches in the middle of the living room and dining room. It opened up this space so much!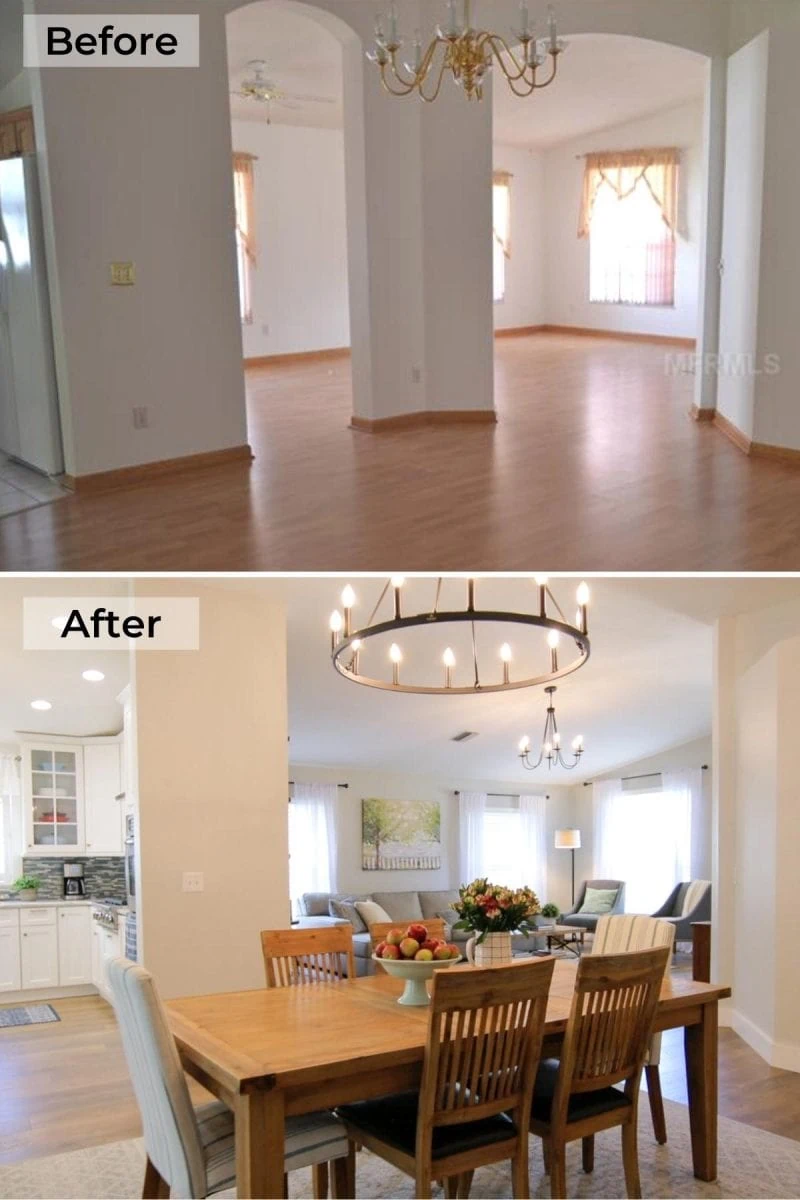 This area is so much more open, feels more spacious and united to the rest of the main living areas. The living room is no longer blocked off from the dining room and kitchen.
Living Room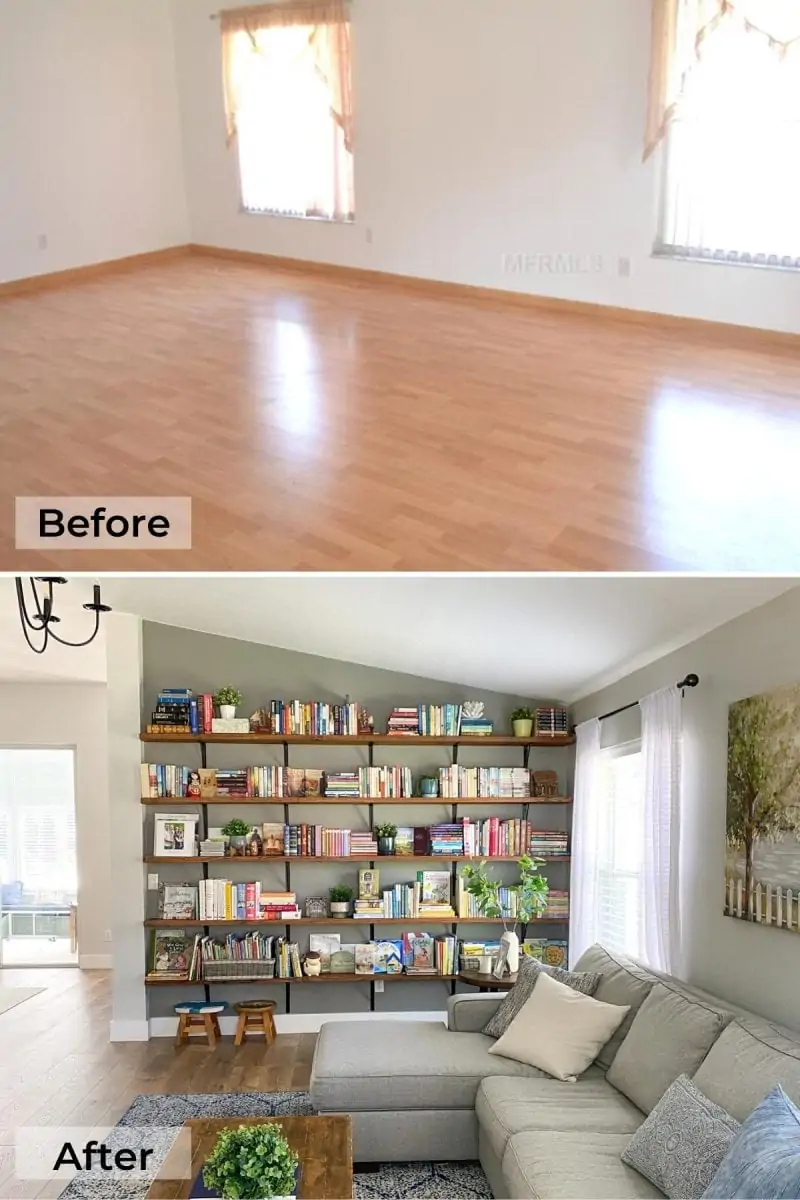 Room Sources
Cabinets: All our cabinets are shaker style cabinets, the white ones were installed in 2014 and the light gray island cabinets in 2022.
Shaker White Cabinets, installed 2014 – We used the company Five Star Stone to order our cabinets and countertops. They no longer specialize in cabinets, but focus on stone work, kitchen and bathroom counters, etc.
Shaker Light Gray Cabinets (kitchen island), installed 2022 – The Cabinets Store. (We ordered our white shaker panel cover for our dishwasher through this company as well.)
Cabinet Pulls: Franklin Brass BAR096Z-CZ-B Bar Cabinet Pull, 3-3/4″ (96mm), Champagne Bronze *
Counters: Back counter: marble (not sure exactly what kind – installed in 2014) Island Counter: Shadow Storm Calcite.
Calcites and Dolomites are the new wave of marbles, they are harder and denser which makes it a more durable surface. Shadow Storm Calcite
Cabinet Knobs: Franklin Brass P29523Z-CZ-B Fulton Cabinet Knob, Champagne Bronze *
Magnetic latches for the front of the island cabinets: 135 Degree Corner Kitchen Cabinet/Cupboard Folded Door Hinges
Dishwasher: Bosch SHVM4AYB3N
Gas Cooktop: American Range 30 inches AROBSCT430L
Flooring: Pergo TimberCraft waterproof laminate flooring, color, Wheaton Oak
We absolutely LOVE this flooring. It's so easy to maintain and the color is wonderful.
Kitchen Runner: Ruggable Liana Light Navy Rug
Kitchen Island pendant lights: Frideko Glass Pendant Light – 11.8 inches Globe Pendant Light
Dining Room table and chairs: We bought it at Kane's Furniture about a decade ago. I haven't seen it sold in years.
Island counter height stools: Amadi Counter Stools Rattan Back Dining Chair, Indoor Faux Leather Bar Stools Set of 2 *
Kitchen Faucet: Kraus Oletto Single Handle Touch Pull Down Sprayer Faucet in Brushed Gold
Kitchen Filtered water faucet: Kraus Single-Handle Water Dispenser Faucet for Water Filtration System in Spot Free Antique Champagne Bronze
Blue Tile Backsplash: Bliss Waterfall Linear Blend Glass and Stone Mosaic from Floor and Decor
Living Room Couch/Sectional: Ashley HomeStores Ashlor Nuvella Sofa
Paint Colors: I have not been able to locate the paint colors, but I will keep looking and if I find them, I will add them in here.
Living Room Rug, Dining Room Rug, Living Room Arm Chairs, Coffee Table, TV console, etc. – All of these items were purchased years ago and I don't even remember where we bought them. So sorry! If I could find links, brands, and more, I would, but since I usually don't share home content, I don't save this sort of information.
Living Room Library – my husband built the shelves for our home library, and I have some of the process documented here.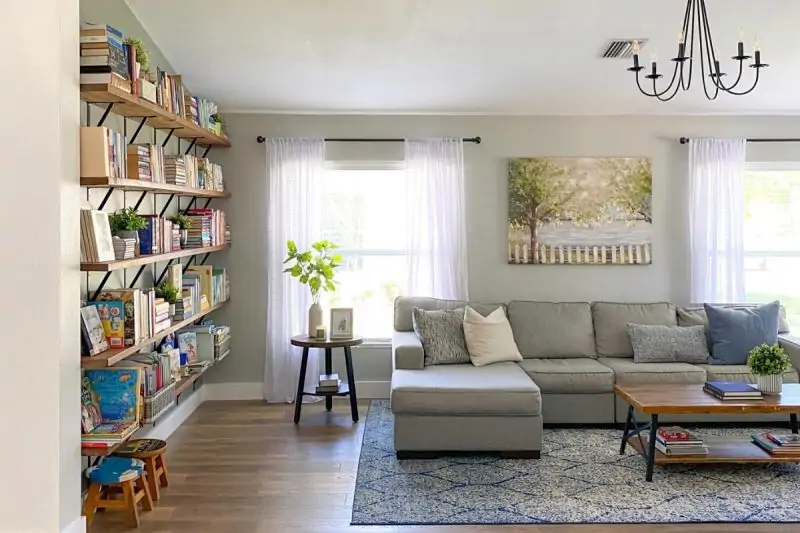 We are so grateful for our home and don't take it for granted. It took us 8 years to get it to where it is today, doing a few home projects every year. It's been a lot of hard work on my husband's part, who did the majority of the work himself, by watching Youtube videos, asking friends and family for advice and a lot of trial and error.
We are not professionals by any stretch of the imagination, but everything we did with lots of love and to to be enjoyed by our family.
This is NOT a sponsored post, nor am I working with any of the brands that I linked here. All of these purchased were made independently by our family solely for the use of our family. A few of the links (marked with *) are Amazon affiliate links, which means I will make a small commission if you choose through purchase through those links.