Our Living Room Home Library Shelves
Recently, my husband made my dream come true by building beautiful shelves in our living room for our home library.
I've loved to read ever since I learned how as a little girl. I have been slowly growing my collection since Sergi and I got married 12 years ago. I hope that someday my library will be even bigger, but for now, this is a great start. I actually stopped buying new books about 8 years ago, and only buy new books after I've borrowed it from the library or a friend and know that I love it and will reread it in the future. Otherwise, it's easy to spend way too much money than I am comfortable with on books:). Besides, many of them I won't reread, or never finish because they were just meh…. All these books in our home library are like old friends. Every year, I add a few more wonderful additions that I fell in love with throughout the year. I share some of those book recommendation on my Instagram stories. I also have a Books Worth Reading board on my Pinterest, if you're interested.
We had been planning this project ever since we bought this house 4 years ago, and we finally worked our way up the "Home Projects" to do list to get this one checked off.
Sergi did all the work, I just explained to him what I wanted, he picked up all the supplies and made it happen. Then I had so much fun arranging the beautiful new shelves.
I got so many questions about these shelves when I shared them on my Instagram stories, so I asked Sergi all your questions and put together this post to be a useful tool for anyone of you who want to install these shelves in your home.
Our living room wall is 10'2″ wide, so Sergi bought 10 inch long, 2 inch thick, boards at Lowe's. They were already 10 ft wide, so they were the perfect size and he didn't need to saw anything off. We didn't take any pictures of the process, because I wasn't planning on sharing anything about it on this food-related website, but we later stopped by Home Depot for something else and found some similar boards there too.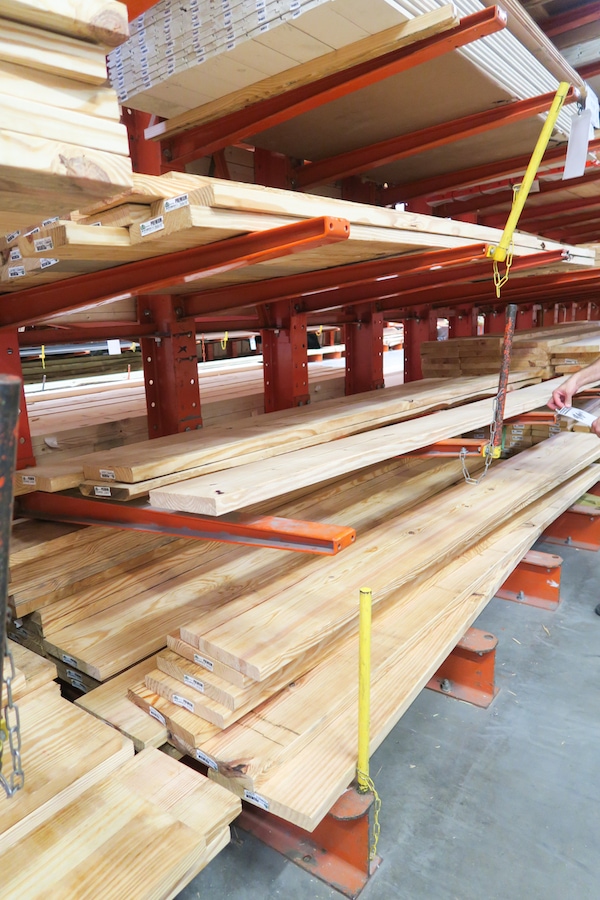 Sergi said it's important to make sure the boards are as straight as possible by looking at them like this. The boards that he chose were a Southern yellow pine.
He sanded each of the boards and stained them using this stain. He simply rubbed the stain into the boards and let them dry. Then he wiped them clean with a dry cloth.
He installed these brackets that we found on Amazon – Decko Heavy Duty Shelf Brackets. We bought the 10.5 inch x 7.5 inch size.*
He found studs in our wall to secure the boards and the brackets solidly to the wall. He used quite a few of them to make sure that the shelves were as secure as possible to the wall, since they would be holding a lot of weight – books are really heavy. Of course, we have two precious little boys running around, so we take extra precautions with everything to make sure things are as safe as possible.
We also decided to paint the bookshelf wall a darker shade of gray than our lighter color gray living room to make it stand out even more and be more of a feature wall. You can see the contrast of the colors well in the picture above, but it's hard to portray the true colors and how they look in person through a photograph.
Nathaniel and Joshua had so much fun "helping" Papa build the shelves. They were so excited to be involved. It's one of their favorite places to play in the house now.
I keep the lower shelf somewhat empty and full of all their things. I put the books that they are currently loving in a basket and have some of their Melissa and Doug wooden cars and buildings in another basket.
So far, they are so entertained with all the things on the bottom shelf that they aren't messing with the higher shelves, even though they can both easily reach the second shelf from the bottom.  It's been 2 months since the new shelves were installed and they haven't shown any interest in the rest of the books and other items on the shelves at all, so I'm happy about that. The way the bottom shelf is arranged changes daily.
They play here every day, pulling out their books and requesting to be read to, play with the stuffed animals, drive the cars around on the bottom shelf and put their other toys on the shelf too. Sometimes, I find Josh's cups and bowls there too:).
It was quite the transformation and worth the work and the wait. We had been using our bookshelves that we had from our apartment days and they were too short and small for that space, and didn't have nearly enough room for all our books. It's so satisfying when you finally complete a long awaited home project, right?
I love how cozy it looks in the evenings.
*Some of these products may be affiliate links. This simply means when I recommend a product or service and if you choose to purchase that product or service from my recommendation, I will get a small referral commission. Of course, this is at no extra cost to you. I really appreciate your support. Thank you!