Sergi and I recently celebrated our 7th wedding anniversary. I am so blessed to be married to my best friend and to share life with the man who I respect and admire, who loves me and makes me feel cherished every day. I always say that Sergi is my gift from God and I am more convinced of it the more we are married.
If you follow me on Facebook or Instagram, you already know that we decided to spend this anniversary in Italy. We both love to travel and it is one of our dreams to travel all around the world.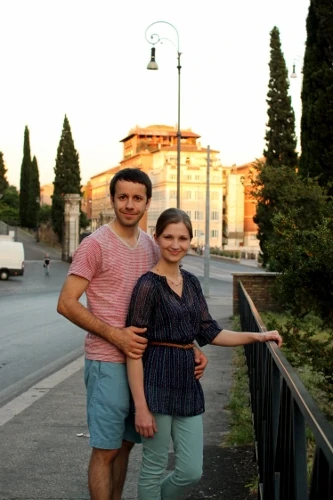 We went for a week and visited Rome, Florence, Pisa, Venice and Milan. We bought a package for a classic tour of Italy, which included travel by bus from city to city. 
It was incredible and really humbling to walk down the streets of a country that has such a rich history. The architecture is truly magnificent and worth seeing. So many times I felt like pinching myself to make sure I wasn't dreaming. The smartest thing that we did was take another week of vacation after our travels. Ha ha! There was so much to see and we didn't want to miss any of it. It was certainly exhausting to wake up every day at 6:30 and spend hours and hours walking and touring the many cities that we visited.
Now I know you're probably wondering about the food. This IS a food blog, after all. I don't know how many times people told us that we were so lucky that we would be tasting authentic Italian food. In America, Italian food is probably the most popular and most dearly loved cuisine. I most certainly agree. Quite frankly, I was expecting to dedicate an entire post or two about all the delicious food I would taste. I even took a small notebook to carry in my purse and take notes so I wouldn't forget anything.
The food was a letdown, to be sure. At first we thought it was because we probably just  happened upon a few restaurants that were not the greatest. We ate breakfast, lunch and dinners in at least 7 different cities and towns, and we didn't notice any difference in the quality of the food. For example, not one single restaurant served freshly grated cheese. We were simply served fake Parmesan with a bunch of additives from the infamous plastic can, that was served in a container with a spoon. You can't fool me:). I know the difference between real Parmesan and the other "stuff". They rarely ever even used fresh herbs. I was really hoping to try some homemade pasta, but alas, not one restaurant served us pasta that wasn't boiled from the box. Anyway, for the most part the food was very bland and under seasoned. I'm sorry to say, but it reminded me of cafeteria food. It was much pricier than here in America, so it wasn't because we weren't willing to spend money on quality food. We researched for "best places to eat in Rome", we asked locals for their favorite places to eat, we tried many different places, but it was all the same. We tried paying more than $100 for a meal, but even that food was disappointing in quality.
We did find great quality ingredients, though. I bought authentic Parmesan cheese, Pecorino Romano cheese, balsamic vinegar, extra virgin olive oil, etc. We had many tasting throughout our trip and I was always so excited to try these Italian delicacies. It's just a shame that Italian restaurants don't use those phenomenal ingredients in their cooking. Most likely Italian families cook great food in their homes, but since we don't have the privilege of being personally acquainted with an Italian family who would invite us over for dinner, we didn't get to experience that.
We didn't travel all the way to Italy for the food, of course, so we were still very happy with our overall experience.
The views of the countryside were absolutely stunning. I am most definitely a country girl at heart and felt so alive and my joy just bubbled over when we visited small towns, countryside villas, lakes and mountains. The cities felt too crowded and "touristy" to me, but that's to be expected.
The sights are so amazing, people from all over the world want to see it as well. Besides, how can you go to Italy and not see all the classic attractions?
Both of us are so pleased that we finally made one of our dreams come true and visited the beautiful country of Italy. We took SO many incredible pictures and the memories we made will be with us for the rest of our lives. The best part of the trip was spending time with each other, every single moment of every single day.