Using One Whole Chicken To Create Four Different Meals
I often buy whole chickens and create an entire menu plan around 1 chicken, using it in a variety of different ways to create 4-5 meals from one chicken. The meals are diverse enough that it doesn't feel like you're eating the same thing every day. In this case, I try to choose a bigger chicken, so I can get as much meat from one bird as possible.
This is definitely budget friendly since whole chickens are usually cheaper than buying chicken parts separately. If you'd rather not deal with cutting up the chicken into different parts, you can simply use this menu suggestion to buy the appropriate chicken parts and use chicken as your main protein for different weeks. This will also help your budget since chicken is usually less expensive than seafood or red meat.
However, if you'd rather not eat chicken day after day, you can cut a whole chicken into parts and freeze parts of it to be used later, either freezing raw chicken or cooked chicken. This way, you will have a plan on how to use the whole chicken, but at later dates. If you have a large family, use 2 whole chickens instead of one.

Chicken Soup
This is usually where my I always start. I cut off the chicken breast and set it aside to be used in different ways.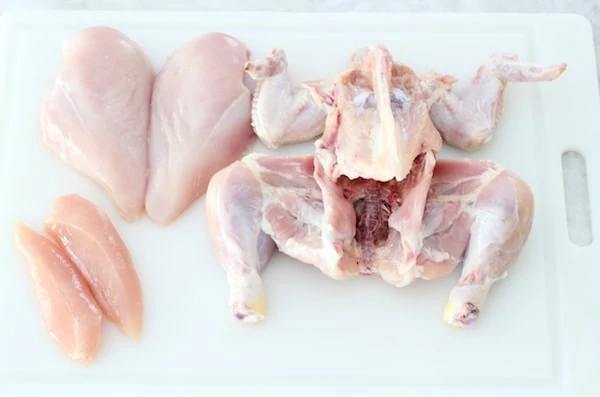 I then use the rest of the chicken to make Homemade Chicken Broth, and from there, I use the cooked chicken in a variety of ways.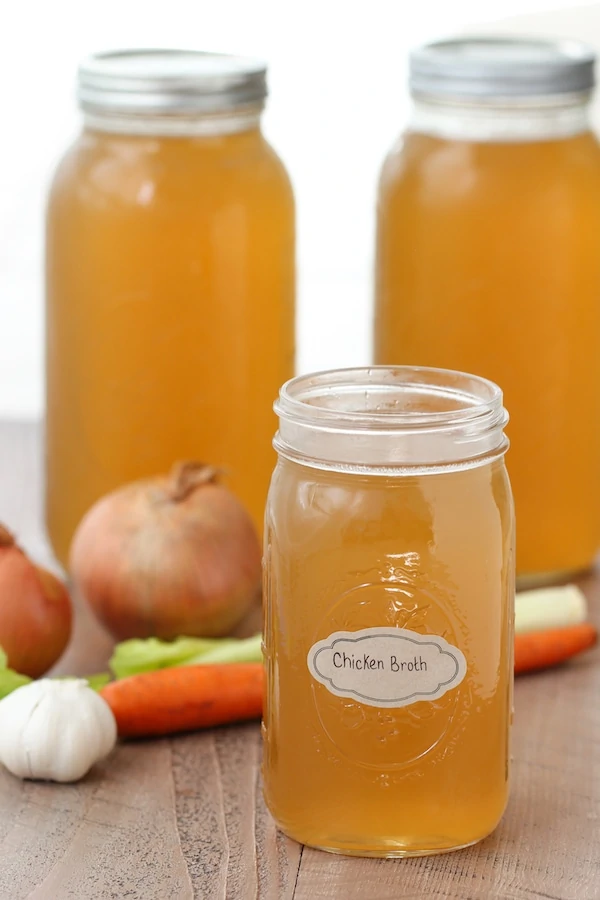 I set aside a small portion of the cooked chicken to add to the soup and save the rest of the chicken to be used in other meals. Some of my favorite chicken soups to make are Chicken Noodle Soup, Chicken and Barley Soup, Creamy Chicken Gnocchi Soup, and Chicken and Dumpling Soup.
2. Savory Crepes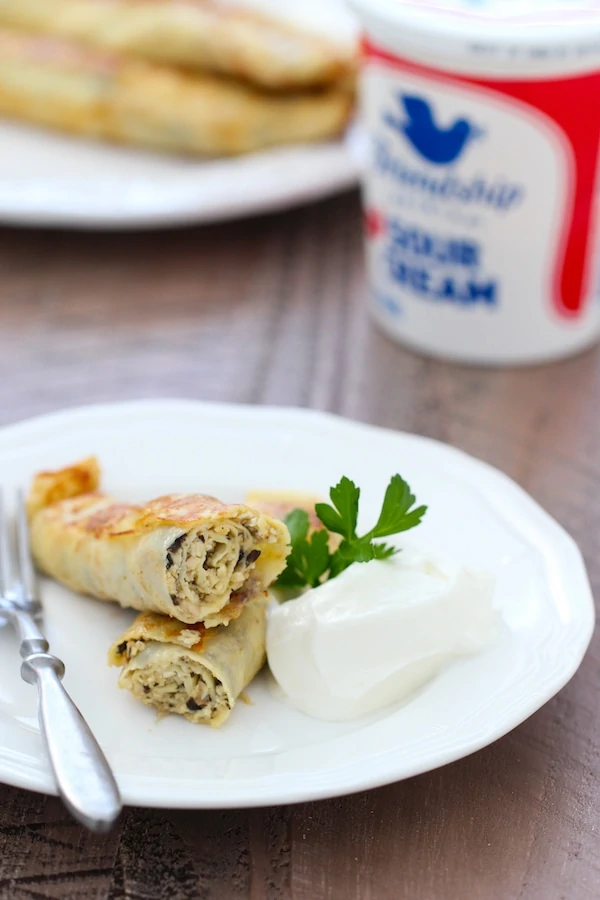 Whenever I share on Instagram or Facebook that I made chicken broth, the #1 question I always get asked is what I do with the cooked chicken. 9 times out of 10, I make savory crepes. We love this simple but very satisfying dinner. Since I always have leftovers soup from the first night, we serve these crepes with the soup. (I'll share the recipe below.) Sometimes I make a double portion of savory crepes and freeze half of them. I place them in freezer ziplock bags and then reheat them in a skillet over low heat. You can defrost the crepes, or place them in the skillet frozen, they will just take longer to cook through.
3. Chicken FrittersWhen I cut the chicken breast off the bone, I will use one of the breast halves to make Chicken Fritters, which will yield about 15 chicken fritters. This will be enough for our small family to eat two nights in a row, or use in a sandwich for lunch the next day.  Chicken Fritters have been a favorite in our family for years. It was actually one of the first recipes that I shared here on the blog and I still make them on a regular basis. An average chicken breast is 6-8 oz each. If you have a smaller chicken, you may get fewer fritters, but it should still be enough for one dinner for one small family. As I mentioned previously, if you have a large family, use 2 whole chickens for this meal suggestion.
We love these baked burritos! I make them often and they freeze well too. I just made these babies on Instagram stories, so if you follow me there, you saw me make them from start to finish with my casual, unedited, home-style video style. This is also a meal I like to make to share with others, friends who just had a baby, a surgery, etc.
You need cooked chicken for this meal, so what I do is add the 2nd breast half and the chicken tenderloins to the stockpot that I am cooking the chicken broth in and take the tenderloins out in about 10-12 minutes and the chicken breast out in about 15-20 minutes. They cook much quicker than the chicken broth and if you take them out fast enough, they will still be juicy and tender, otherwise, the white meat is really dry and leathery when it's overcooked.
Do you like to use a whole chicken for a variety of meals? Please share! I have lots of recipes that I always use because I am doing this every few months. If you're interested, I will share more of my menu ideas for a whole chicken in the future.
Here are a few things to consider:
1 small (2lb) whole chicken = an average 3 cups cooked chicken. I like to buy a chicken that is at least 4 lbs when I'm buying it for this purpose. If you have a larger family, consider buying 2 chickens. Most of these recipes will yield more than enough for 2 dinners, not one; you can also halve the recipes, have leftovers or freeze half.

Chicken and Mushroom Crepes
Author:
Olga's Flavor Factory
Ingredients
Crepes:
2 cups milk
4 eggs
6 Tablespoons cornstarch
8 Tablespoons flour
4 Tablespoons oil
¼ teaspoon salt
2 Tablespoons sugar
Chicken Filling:
2 cups cooked chicken
½ Tablespoon butter
8 oz fresh mushrooms, sliced
1 onion, finely chopped
3 hard-boiled eggs, finely grated
¼ cup broth
salt, pepper, to taste
Instructions
Place all the ingredients for the crepes, eggs, milk, water, butter, salt and flour in a blender and mix until well combined. You can also use a whisk to mix it together. Place in the refrigerator and chill for at least 1 hour.
Heat a nonstick skillet over medium heat. Spread a bit of oil around the skillet using a paper towel. Pour about ¼ cup of batter into the hot skillet and tilt the skillet, shaking it slightly until the batter spread evenly around the skillet. Cook for about a minute, until slightly golden, flip the crepe over and cook for another 30 seconds on the second side.
Continue with the rest of the batter. Place the crepes on a round plate. Keep them wrapped in aluminum foil. This will keep the edges of the crepes from becoming hard.
Place about ¼ cup (a little bit less) of filling in the center of a crepe, and form it into a cylindrical shape.
Melt the butter in a skillet, add the onion, season with salt and cook until the onions are tender and slightly golden.
Mix the ingredients for the filling in a bowl.
Take the sides of the crepe on the left and right and fold them over the edges of the filling.
Take the bottom part of the crepe and bring it over filling and folded sides of the crepe. Roll the crepe around the filling.
Heat ½ Tablespoon of oil in a nonstick skillet over medium heat. Add the crepes. Cook until golden brown on both sides. Serve with sour cream, adzhika or Ranch dressing.