Nathaniel's 1st Birthday Party – Peter Rabbit Theme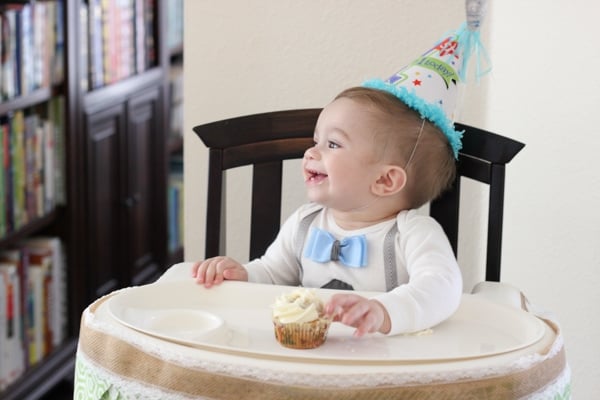 We recently celebrated our son's first birthday. It was a wonderful day to thank God for blessing us with his birth and his health and development for the past year. We had the birthday party on Sunday, February 21st, a few days before his actual birthday on the 23rd, just because it is so much more convenient to get everyone together on the weekend. The weather was absolutely beautiful that day. Since both Sergi and I come from large families, we had a pretty large gathering, even though we only invited our parents and siblings with their families.
I chose to do a Peter Rabbit theme because Nathaniel's favorite activity of all is to be outside, so I thought a garden inspired party would be fun. Also, Nathaniel does the cutest rabbit impression ever – wrinkling up his nose and showing his cute little teeth, every time we tell him to show us a "zaichik" (Russian work for rabbit).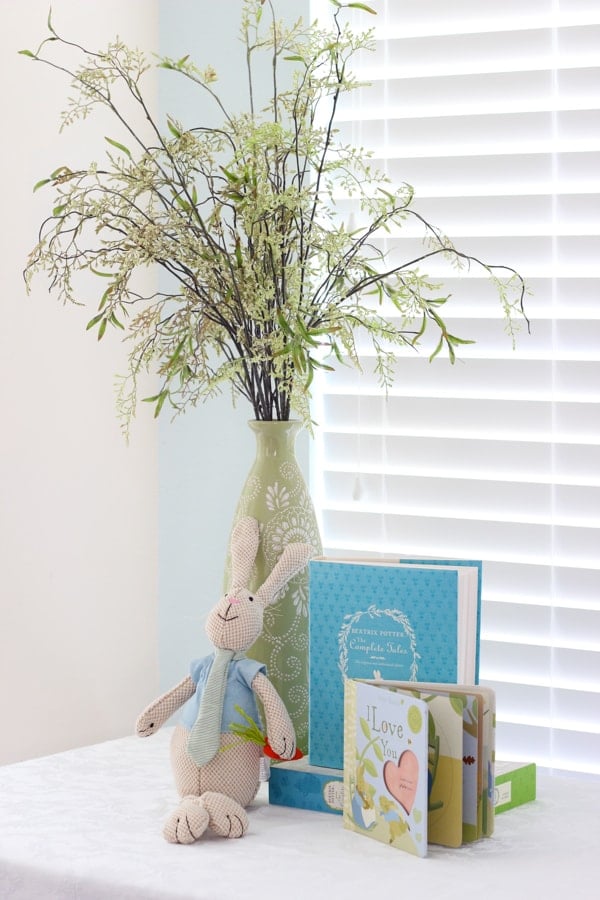 I tried to choose decorations that were inexpensive, not difficult to put together and I incorporated a lot of the things that we already had around the house.
Most of the books are from Nathaniel's own library and we bought the bunny at Home Goods, which will now be part of Nathaniel's nursery.
I ordered the banner from an Etsy shop. It was a downloadable printable, so we just printed it up at a local office supply store and then strung it up with some kitchen twine.
I printed up one banner for the living room and another one for the sunroom. We placed a rug on the floor of our sunroom, which is right off of the dining room and kitchen, and set up a bunch of Nathaniel's toys and books all around the perimeter of the room, so that all the babies could play in there. Most of the children at the party were very small, so this was perfect. They had so much fun playing there. We hung some tissue paper pom poms from the ceiling and placed lots of balloons in this room too.
I also framed the outfit that Nathaniel wore when we brought him home from the hospital and printed up each of his monthly pictures. It was so cool to see him gradually growing up through his first year of life. I glued those pictures into his baby book the next day:).
The Menu:
(I will include links to recipes if I have them on my blog.)
Appetizers:
On the way to Florida, my parents stopped by New York City and brought back lots of goodies from Russian stores that we used for the party. Most of the appetizers were from there and also the kvas. It was great to have less cooking that needed to be done and have a chance to enjoy some classic Russian party food.
Salads/Sides:
Everyone really enjoyed this salad and even though I made a giant portion of it, almost all of it was gone by the end of the party. It's very fresh and not as heavy as coleslaw and the fresh corn and cucumbers give it texture and taste just like spring.
A Peter Rabbit themed party had to include cabbage and carrots too:). 
Nathaniel loves mashed potatoes, so I knew that would have to be part of the menu.
Entrees:
For the entrees, I chose 2 options that I could make in advance and just reheat. Plus, Nathaniel really loves meatballs and chicken, so both of these were perfect choices.
Desserts:
Carrot Cupcakes with Cream Cheese Frosting
Of course, it's only natural to have Carrot Cupcakes as part of the dessert for a Peter Rabbit party too. I used the recipe from Cook's Country. (I ordered the cupcake toppers on Amazon.)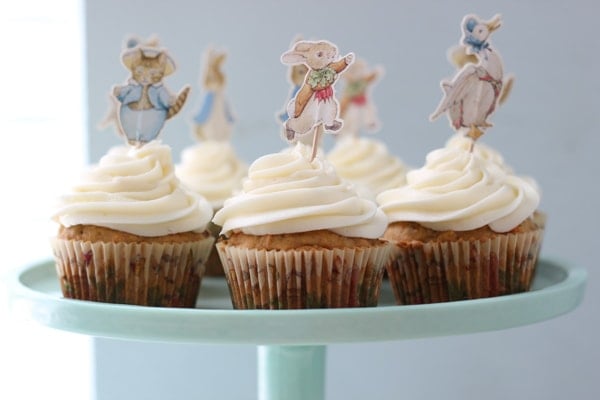 This is such an easy cake to make and so delicious too. I love the flavor of the honey cake layers that are so tender.

I used the cake and frosting recipe from the Mandarin Cake, but instead of orange liqueur, I used strawberry liqueur and added homemade strawberry refrigerator jam in between the layers and topped the cake with sliced kiwi, which I brushed with a citrus glaze to keep the fruit glossy and bright.
Beverages:
Berry Pink Lemonade – this was a big hit. It tastes to fresh and summery. The berries and the tart lemons are a perfect combination.
Kvas from the Russian store
We put the candle on a cupcake, which Nathaniel's cousins helped him blow out, and then he really enjoyed digging into his birthday treat. 

After opening one gift, he wasn't interested in any more presents, so next year, we'll just get him one present, ha ha:).
After the food and the presents, we enjoyed the beautiful weather in the backyard. We laid out some blankets, gave the babies rides in Nathaniel's tricycle and some of the adults played volleyball. Since Nathaniel loves to be outside so much, I was really hoping that the weather would be nice enough that we could spend some time out there. It was the perfect conclusion to his party.
It was especially nice to spend time with family and even my parents and sister and her family from New York were able to make it and enjoy a Florida vacation this past week with us.
We are so thankful for the gift of our son and he is such a delight for all of us.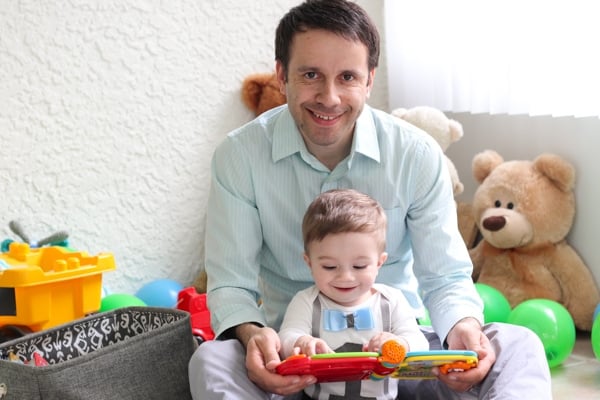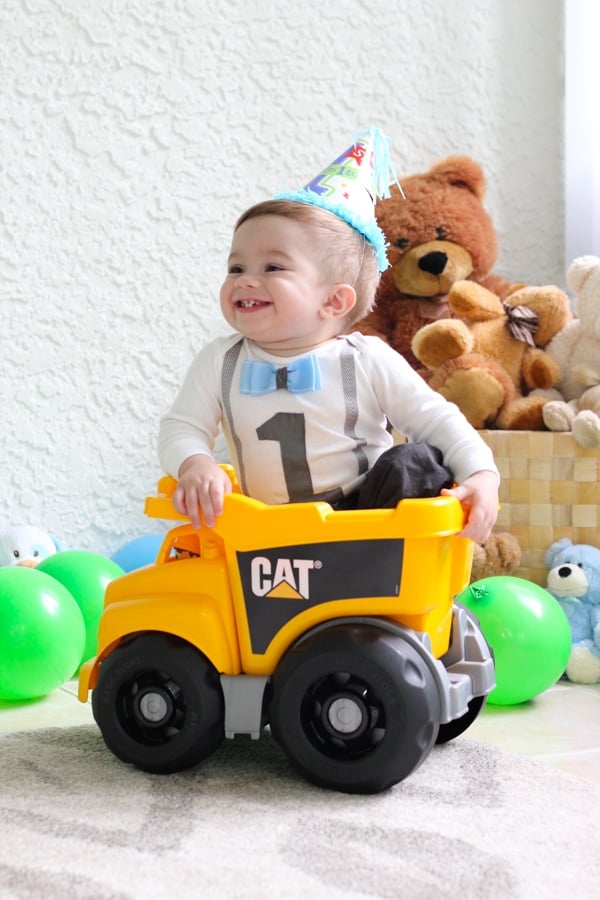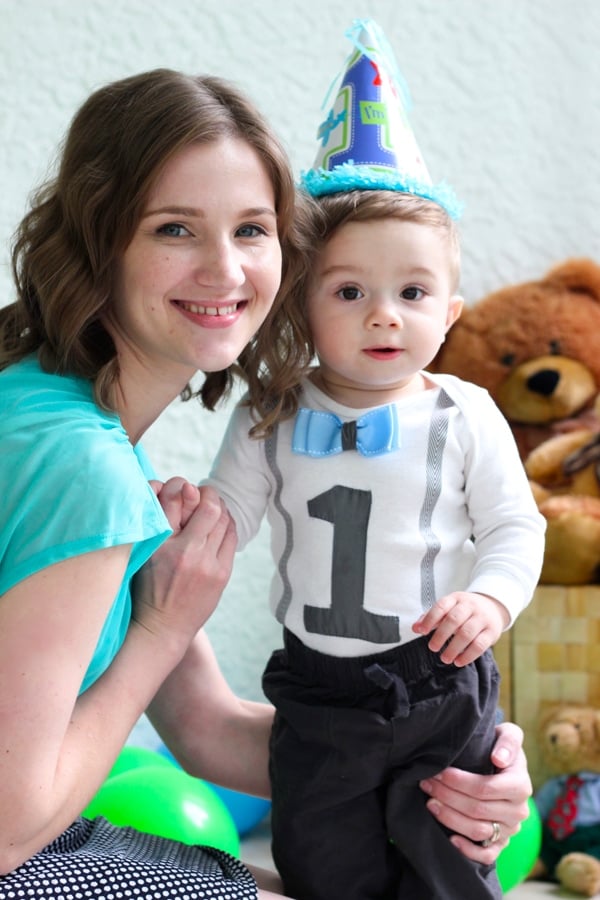 We took a lot of videos of the party, so if you're subscribed to my Youtube channel, you'll be able to see it soon if you're interested.