Keeping Your Kitchen Cool This Summer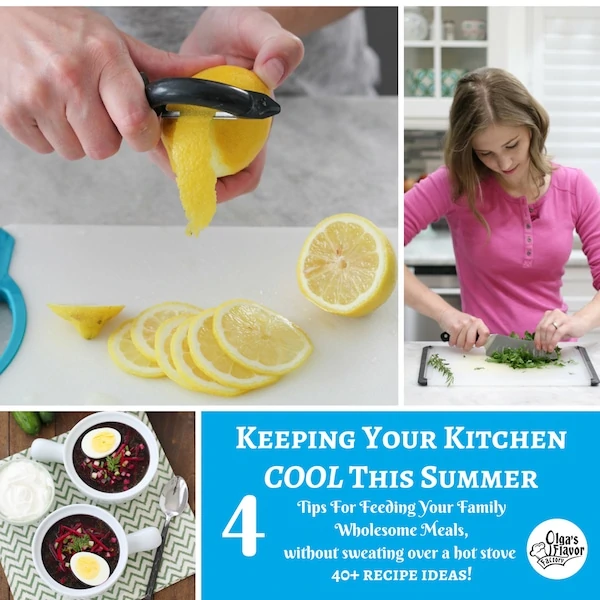 In the hot, summer months, it's a challenge to get up enough motivation to cook, especially since it's not very pleasant to stand in front of a hot stove or heat up your already warm house with a working oven or stove. On rainy days, having a soup simmering on the stove is cozy and inviting but on hot, sunny days… not so much.
With a little bit of planning, you can keep your cooking to a minimum and spend more time outside, cooling yourself off by the pool or in the ocean, or enjoying the full benefits of air conditioned buildings.
Here are 4 ways to feed your families delicious, wholesome dinners WITHOUT heating up the whole house in the process.
Use your Slow Cooker or Instant Pot.
These incredible appliances keep prep work to a minimum, so once you turn them on, you can clean up after yourself and forget about dinner until much later. Not only are recipes in these appliances usually pretty easy, but they use such a small amount of power and so keep your kitchen cool, which is the whole point of this post. Even if you do need to use the stove for a bit of prep work, it's usually for a short amount of time, so it doesn't heat up the kitchen too much and you have plenty of time to clean up and then relax.
Favorite Slow Cooker Recipes:
3. Slow Cooker BBQ Pulled Chicken 4. Slow Cooker Curried Chicken 5. Loaded Baked Potato Soup
Favorite Instant Pot Recipes:
– Instant Pot Braised Potatoes and Chicken
– Instant Pot Roast With Potatoes and Carrots
– Collection of Multiple Instant Pot Recipes, Plus Tips on How to Convert Regular Recipes to the Instant Pot
2. Grill
We love using our grill and I have so many different grilling recipes, that we could stay outside for a few weeks, if we wanted to. Not only does the whole house stay cool when we grill, the kitchen also stays clean, because there's usually not as much prep work, or most of it can be done in advance. As an added bonus, my husband grills, so it's even LESS work for me:). I just marinate and prep the food and he does all the outdoor cooking.
Favorite Grilling Recipes:

1. Grilled Chicken Kebabs 2. Grilled Vegetable and Mushroom Kebabs 3. Grilled Cheeseburger
4. The Juiciest Bone-in Chicken Breast 5. Beef Fajitas 6. Grilled Salmon Kebabs
7. Cilantro Lime Shrimp Kebabs 8. Zucchini and Feta Turkey Burgers 9. Baked Potatoes on the Grill
3. Leftovers – Reheat or Repurpose
While the first 2 tips were all about NOT even turning on the biggest heat blasters – the stove and the oven, this 3rd tip is about careful planning, so that when you DO use the stove or oven, you can make it count. Plan your menu so you have leftovers for at least part of the week that reheat well or can be repurposed. On those rainy, gloomy days, make a double batch of cabbage rolls, pasta sauce, meatballs, soup, etc, so that there are days in your week when you're not cooking at all, just reheating.
Favorite Great Leftovers To Be Reheated:

1. Mom's Braised Potatoes 2. Plov (Beef and Rice Pilaf) 3. Beef Goulash
4. Cabbage Rolls 5. Tomato, Vegetable and Mushroom Ragu 6. Borsch
7. Beef and Rice Stuffed Peppers 8. Stroganoff Meatballs 9. Chicken Kotleti
There are also so many phenomenal ways to repurpose leftovers into completely different meals with minimal effort. Even if you have family members who refuse to eat leftovers, it won't seem like you're eating the same thing several nights in a row, but bring something new and exciting to the table with a few additions and creative tricks.
Favorite ReCreated/RePurposed Leftovers:
1. Chicken Fried Rice 2. Savory Crepes (Meat Filled) 3. Burrito Bowls
4. Salmon Pasta 5. Mediterranean Chicken Pita Wraps 6. Pasta With Roasted Garlic Sauce and Turkey (or Chicken)
7. Chicken, Mushroom and Rice Baked Burritos 3. Pulled Pork or BBQ Pulled Chicken Sandwiches 3. Salmon and Rice Burritos
Freezer Cooking: Even though Freezer Cooking usually involves planning and sometimes cooking in advance, it is such a life saver for busy days and hot days, when all you have to do it pull the meal out of the freezer, thaw and then cook. Even though you might need to use your stove or oven to cook the meal, you don't have any work to do before hand, so it's awesome. Many times, I will pull out a Lasagna, Tomato Soup, Meatballs, or Tomato Sauce out of the freezer the night before or in the morning and I don't have to do anything until dinnertime. I'll put the food in the oven and return to the backyard to watch my boys splash in the pool, while our dinner is cooking away.
4. Prepare Cold Meals
Of course, I had to include cold meals too. Often when it's really hot, we don't even want to eat anything warm, so salads, soups and sandwiches that can be served cold come in handy. Another convenient things about cold meals is that they can be made in advance, which is fantastic. Even if you may need to cook some of the components, once these meals are prepared, they are served cold, and you stay just as cool, calm and collected as your meal.
Cold Meals:
4. Gazpacho 5. Chicken Caprese Wraps 6. Antipasto Pasta Salad
7. Ranch Potato Salad 8. Russian Beet Salad – "Vinegret" 9. Vegetable Pasta Salad
I hope this post will help you stay cool for the remainder of the hot weeks/months and enjoy these "lazy, hazy days of summer" as much as possible. Everybody deserves days off, not just the schoolchildren, so grab your planner and let's make it happen. What are you going to do with your free time now that we drastically cut down your hours sweating in a hot kitchen?