25 + Vegetarian and Vegan Options For Thanksgiving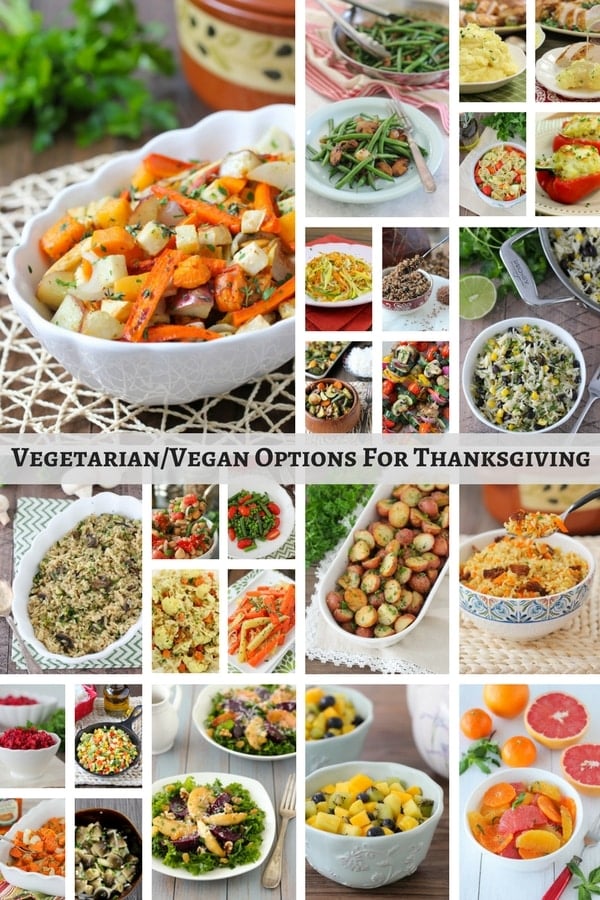 If you're looking for some vegetarian and/or vegan options for Thanksgiving, I've rounded up some great options for you. I am definitely not an expert on vegan cooking, but I do have some great recipes that don't include meat or animal by-products. I think all of these recipes are really delicious and would be enjoyed by everybody, no matter what their diet preference is. In fact, when I was creating these recipes, I was not creating them with the intention of being vegetarian or vegan, they just happened to be this way. Some of these are not vegan, but can easily be adjusted to be. I will include the adjustments in the description. You may not be vegetarian or vegan, but chances are that you will host some guests in your home that are and it's very thoughtful to have plenty of options for them that you can all enjoy. 
A vegetarian diet usually means that there aren't any meat products, but most will usually eat dairy, eggs, etc. A vegan diet is a plant-based diet, so that means no meat but also no dairy and no other animal by-products, such as dairy, eggs, gelatin, and, in some cases, honey. If you have guests that are vegetarian or vegan, ask them to clarify what they eat and don't eat, to be sure exactly what to serve. Another great idea is to ask them to bring something to contribute to the meal. That way, you'll be able to try something new and they will definitely have something to enjoy. However, I find that it's not hard to adjust a few recipes and have many options available for everyone. Right now, grocery stores have vegan butter, cream cheese, cheese, sour cream, etc. so it makes it very easy to make substitutions. Here are a few brands that taste really great: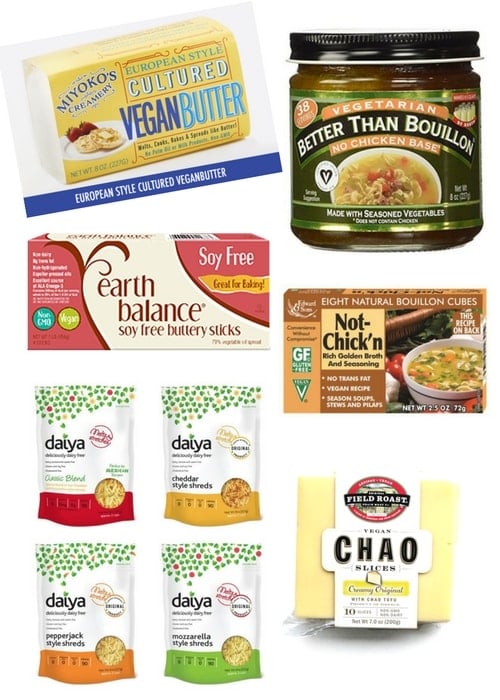 Vegan Butter:
Miyoko's Creamery European Style Cultured Vegan Butter
Vegan (Not) Chicken Broth:
Better Than Bouillon Vegetarian No Chicken Base
Not Chick'n Rich Golden Broth and Seasoning
Vegan Cheese:
Field Roast Vegan Creamy Original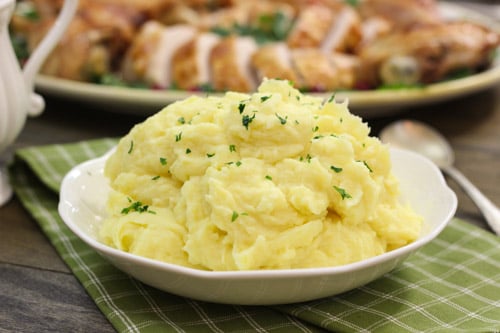 Mashed potatoes are a great staple and very easy to make vegan – use vegan butter and unsweetened almond milk or cashew cream instead of milk and butter.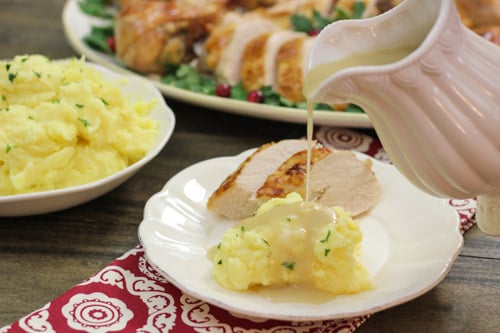 Use my turkey gravy recipe as a base, substituting vegan butter for the turkey drippings and using vegetable broth or vegan chicken broth (listed above) instead of chicken broth.
These stuffed peppers are beautiful. We love them as an entree for dinner, so they would be great for your vegan/vegetarian friends or family. The recipe is vegetarian already, except for the chicken broth – just use vegetable broth, but if you want to adjust it to be vegan, just substitute dairy-free milk, like almond milk and use vegan cheese.
This pasta salad is so delicious. I just made it for my son's first birthday, and there were hardly any leftovers. It tastes so fresh, with lots of textures and it's so colorful and pretty. It's already vegetarian and vegan approved. (Make sure the pasta you buy doesn't contain eggs.)
This salad is so hearty and filling but tastes so bright and fresh at the same time. I just love recipes like that! Completely vegetarian and vegan, no adjustments necessary.
Slavic people have this salad on the menu for many holidays and special occasions. I am making this for Thanksgiving myself. It's so colorful and beautiful. Potatoes, beets, carrots, sauerkraut, pickles, onion. You can also add some beans. Another awesome thing about this salad is that you can make it in advance and it will taste even better the next day.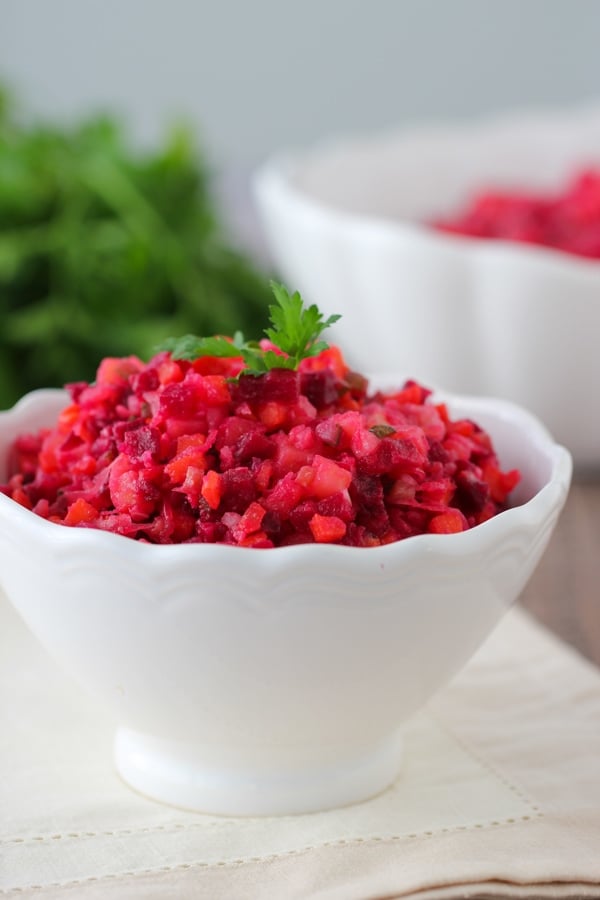 This would be a beautiful dish to grace any holiday table. The fresh corn, lime, and herbs bring so much freshness and color, while the black beans add more richness to the dish. No adjustments needed.
Mushrooms and zucchini give this very easy dish so much savory flavor. I love how simple it is to prepare too. Omit the parmesan cheese if you're making it vegan, otherwise, no other adjustments needed.
Sweet potatoes are so good! My boys love them and they are packed with nutrients, so it makes me so happy to feed them something so nutritious that they are happily devouring. A perfect addition to a Thanksgiving meal, especially with that orange color. No adjustments needed.
How beautiful would this look on your table? I really love when you can combine so many different flavors and textures in one dish. It comes together so easily and the flavors are very autumnal. No adjustments needed.
Mushrooms are earthy, so savory and add richness to any dish. I think they are a secret ingredient to making something taste really "meaty". No adjustments needed.
Green beans are a classic for Thanksgiving, and this version with mushrooms is so great. The tiny pearl onions give it a special touch, but if you can't find them you can use shallots, or regular onion instead. No adjustments needed.
A combination of all these amazing vegetables is so spot on delicious and satisfying. Brussels sprouts, carrots, mushrooms, green beans, broccoli, zucchini, celery, shallots – I mean, seriously! I have a special relationship with veggies and this is proof:). No adjustments needed.
Another green bean favorite, this time there are tender baby peas and sweet, juicy tomatoes. No adjustments needed.
Does anybody else think roasted cauliflower is so good? I find myself sneaking cauliflower off the baking sheet while waiting for the pasta to cook. I actually try to make extra cauliflower because I know part of it will end up in my mouth before it all comes together. To make it vegan, omit the parmesan cheese and use vegan butter, which by the way, is really awesome and tastes great.
Sauteed zucchini, carrots, shallots (red onion will work too) and the dressing is both tangy and sweet. I think the julienned vegetables are extra fun. You can use another sweetener instead of the honey, like maple syrup, agave or granulated or raw sugar. No other adjustments needed.
Such a vibrant side dish. Carrots and parsnips go so well together and the fresh herbs, lemon, and orange juice add fresh flavor. To make it vegan, just use vegan butter and vegetable broth instead of chicken broth.
These Garlic and Herb Potatoes are always a big hit and I often serve them for parties. They are perfectly creamy and soft on the inside, but crisp and golden on the outside. No adjustments needed.
Buckwheat Kasha with mushrooms is so earthy and satisfying. A bowl of this would be all I need for a satisfying dinner. I often make this for lunch for myself and the boys. My one year old especially loves it. Omit the bacon and use vegan butter to make it vegan, the mushrooms are more than enough to make it really tasty.
This is also a staple for parties in our family all year long. You can use many different types of veggies, for example, omit the tomatoes and use eggplant, yellow squash, and/or pineapple is really great too. No adjustments needed.
Succotash is a great option this time of year. You can use frozen or canned veggies instead of fresh. A dish like this packs a real punch because there is a nice variety of veggies. No adjustments needed.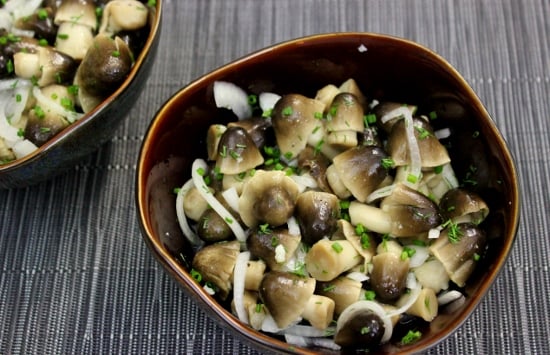 Marinated mushrooms are a definite Slavic staple for holiday meals. Using canned mushrooms makes it super easy to make, but adds lots of flavor by using some onions, garlic, fresh herbs and some vinegar. Straw mushrooms are some of my favorites and you can find them in Asian stores or the international aisle of many grocery stores. No adjustments needed.
Salads are one of the easiest to make vegan since they are based on veggies in the first place. Make sure there aren't any eggs, cheese or other dairy in the dressing. This kale salad is so unique, with the roasted beets, golden raisins and sauteed apples and the tangy lemon dressing to bring it all together. To make it vegan, omit the cheese and use maple or agave syrup instead of the honey.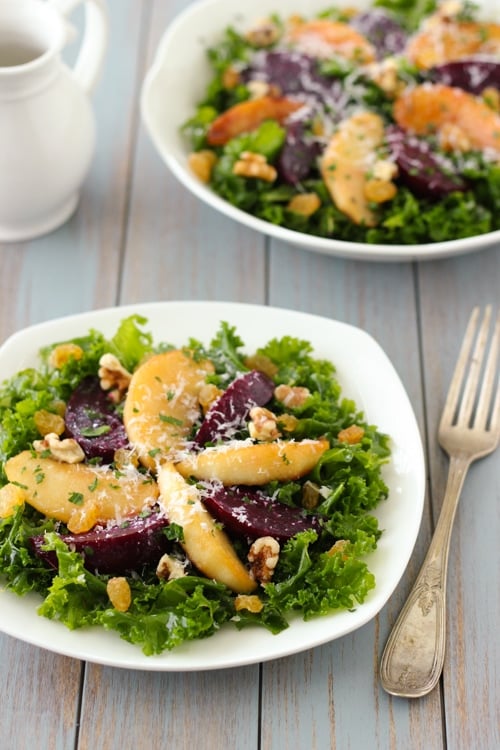 Desserts are the most challenging for me to make vegan. I have very little experience and knowledge in this department. However, fruit salads are always a great option.
This fruit salad is a favorite in our family.  Mango, pineapple, blueberries, and kiwi all tossed in a simple syrup. Another awesome thing about this salad is that you can make it in advance, which is very rare for a fruit salad. No adjustments needed.
This is a good time of year to make a citrus salad since it's the start of the citrus season. It's so colorful, sweet and refreshing. Use agave syrup instead of honey to sweeten the salad.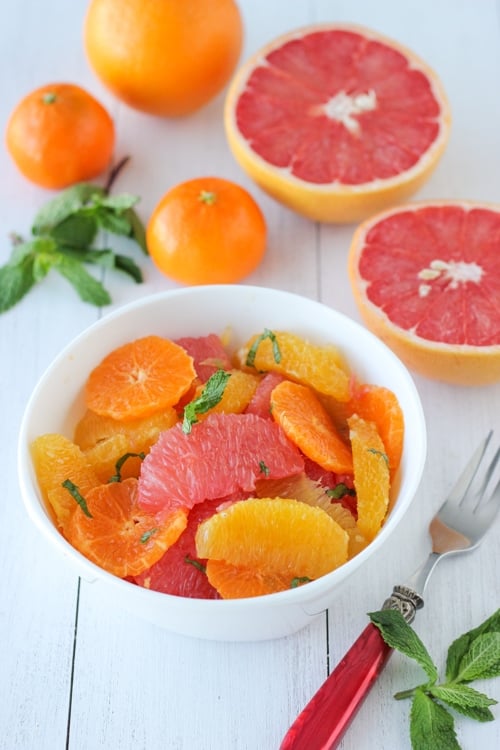 If you don't want to bake anything vegan, check out your local bakeries and grocery stores. There are a lot of fantastic options available nowadays. If you do want to bake something though, here's a link to a really incredible Mandarin Upside Down Cake. My sister made it recently and we all LOVED it. You will never be able to tell that it is vegan and you probably have all the ingredients in your pantry already, except for the mandarins, which are in season right now.
If you have any vegan recipes that you have tried and love, please share them in the comments below.